Best gain for ODCE in a decade
The recovery gained steam as the NCREIF ODCE Index posted its strongest quarterly return in 10 years; Industrial remains the best performer.
Income stayed positive except in the Hotel sector.
Niche sectors such as self-storage and life sciences continued to be accretive.
Vacancy rates kept compressing in Industrial and Multifamily as demand stayed strong.
Net operating income stayed negative for Office and Retail but a recovery continued.
Tenants were poised to return to work but the Delta variant may change that.
Pent-up demand is evident through foot traffic in retail centers.
2Q21 rent collections showed relatively stable income throughout the quarter in the Industrial, Apartment, and Office sectors; the Retail sector remained challenged, with regional malls impacted most heavily.
Class A/B urban apartments were relatively strong, followed by Industrial and Office.
Demand outpaced supply as new construction of preleased Industrial and Multifamily occurred.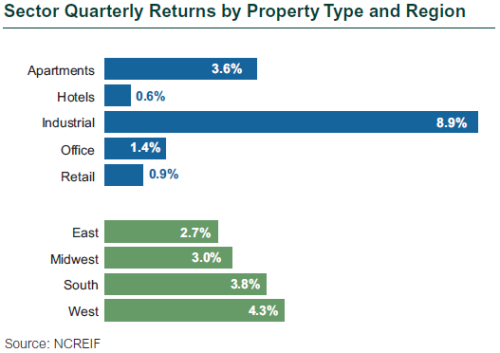 Global REITs outpace broader equity market recovery
Global REITs outperformed in 2Q21, gaining 9.2% compared to 7.7% for global equities (MSCI World).
U.S. REITs rose 12.0% in 2Q21, beating the S&P 500 Index, which gained 8.5%.
Globally, REITs are trading above NAV with the exception of those in Hong Kong, the United Kingdom, and Continental Europe.
Ongoing volatility in REIT share prices offers opportunities to purchase mispriced securities, individual assets from REIT owners, and discounted debt.
It also gives investors the potential to lend to companies and/or execute take-privates of public companies.