Endowments, Foundations & Nonprofits
Driven by a commitment to make a lasting impact
Your organization has a mission. The more you accomplish with your investments, the more lasting impact you'll achieve. You take the long view, stay on top of trends, and carefully navigate risk through changing market conditions. While the process is challenging, Callan can help you every step of the way.
As one of the largest, independent investment consulting firms, we have a rich history of advising endowments, foundations, and nonprofits. In fact, we've built our business to focus on you and improving your investment outcomes.
Our listen-first, peer-reviewed process aligns our advice with your specific considerations. Your unique goals and complexities require a tailored approach. 
Our experienced, responsive consultants — backed by expert researchers and specialty teams — will work with you to create a true investment partnership that keeps your needs and goals at the center of the conversation. 
Whether you're navigating the changing landscape of impact investing or seeking to maximize your investment opportunities, Callan can help you achieve your mission.
For institutional investors at endowments, foundations, and nonprofits, it's a challenge to:
Navigate regulatory changes
Nonprofit assets under advisement
Years Callan has served nonprofit clients
Research specialists and consultants with CFAs/CAIAs
Services for endowments, foundations & nonprofits
Asset spending and structure analysis
Manager evaluation and selection
Performance and risk monitoring
Alternatives investing
Trust, custody, and securities lending
ESG investing
Utilization of diverse and emerging investment managers
Discretionary services
Our people are our biggest strength and differentiator. We pride ourselves on a collaborative culture that supports a team-based approach to investment consulting, resulting in strong retention rates among our professionals and our clients.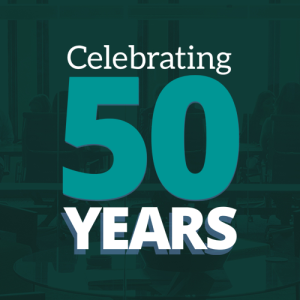 Callan turned 50 in 2023, and we know who to thank for that. Our clients. 
Asset allocation & spending analysis
Policy development & risk assessment
Manager evaluation & selection
Portfolio monitoring & ongoing education