This is the first in a series of quarterly blog posts providing context for public defined benefit (DB) plans about their returns over time, from our Public DB Plan Focus Group.
After suffering one of the worst fiscal years on record in 2022 (median plan return: -9.4% for the year ending 6/30/22), public DB plans have recovered nicely in the new fiscal year-to-date. Despite a slow start in 3Q22 (-4.4%), the median return on all public plans in fiscal year 2023 so far is 5.8%. These results make sense, given public equities (as represented by the MSCI ACWI Index) have returned 9.8% over the three quarters ended 3/31/23, while core fixed income (as represented by the Bloomberg US Aggregate Bond Index), has been relatively flat (-0.09% return).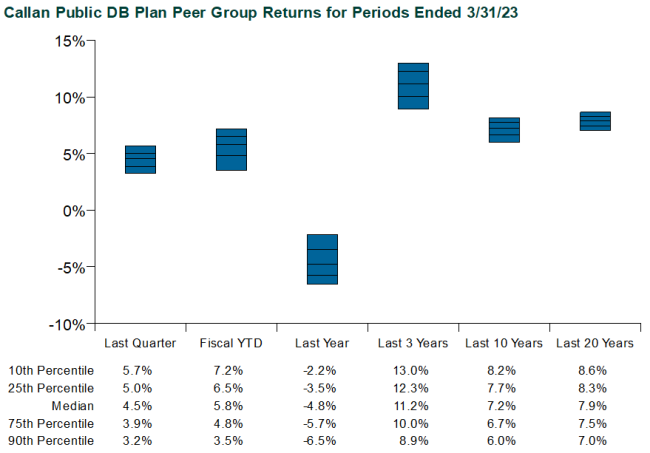 In contrast to fiscal year 2022, the correlation between asset size and plan performance reversed itself, as small public plans outperformed larger public plans as the poorer returns of 2022 continue to work their way through alternative assets. Private equity returns report on a one-quarter lag, while private real estate utilizes an appraisal process that results in a smoothing of gains and losses over multiple quarters.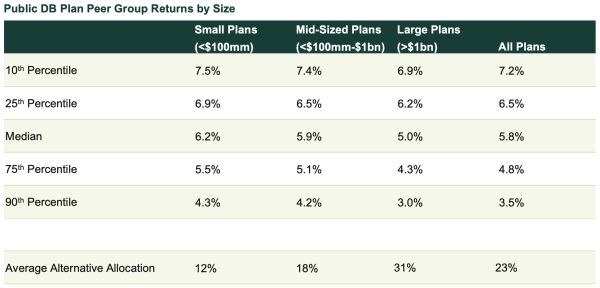 In a three-year period that included enough black swan events to make the Russian Ballet blush, it is worth highlighting that public plans have held up relatively well. Public plans should continue to emphasize long-term results and be less reactive to near-term volatility. When rebalancing opportunities present themselves, plans should seek to capitalize. Finally, they should focus on the ultimate purpose of the assets, identifying their goals and objectives, and developing an investment program that balances the need for asset growth, income, liquidity, and risk mitigation.
Disclosures
The Callan Institute (the "Institute") is, and will be, the sole owner and copyright holder of all material prepared or developed by the Institute. No party has the right to reproduce, revise, resell, disseminate externally, disseminate to any affiliate firms, or post on internal websites any part of any material prepared or developed by the Institute, without the Institute's permission. Institute clients only have the right to utilize such material internally in their business.