The Consumer Price Index (CPI) rose by 5.0% year-over-year in May, the biggest jump since 5.4% in August 2008, and core CPI (which excludes food and energy) climbed by 3.8%. The Personal Consumption Expenditures (PCE) Index rose 3.6% (YOY), and core PCE rose 3.1%. Markets are worried about inflation because these numbers are well above the Federal Reserve's long-run inflation rate objective of 2% (on the core PCE Index). What accounts for the difference between the two inflation measures? Why does the Fed prefer one over the other? And what are some of the issues that may drive future inflation increases?
The CPI is released by the Bureau of Labor Statistics and the PCE is issued by the Bureau of Economic Analysis. While both measure inflation based on a basket of goods, there are subtle differences between the indices:
Sources of data: The CPI uses data from household surveys; the PCE uses data from the gross domestic product report and from suppliers. In addition, the PCE measures goods and services bought by all U.S. households and nonprofits. The CPI only accounts for all urban households.
Coverage: The CPI only covers out-of-pocket expenditures on goods and services purchased. It excludes other expenditures that are not paid for directly (e.g., medical care paid for by employer-provided insurance, Medicare, or Medicaid). These are included in the PCE.
Formulas: The CPI formula is more likely to be affected by categories with wide price swings such as computers and gasoline. The PCE calculations smooth out these price swings, which makes the PCE less volatile than the CPI.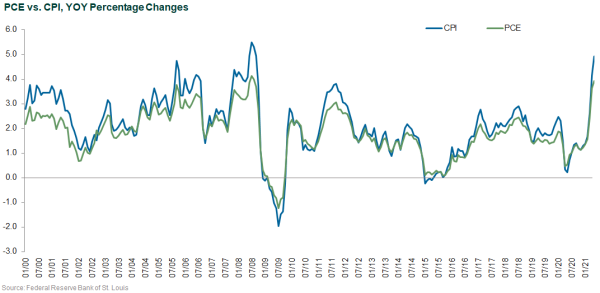 In January 2012, the Federal Reserve stated at its monthly Federal Open Market Committee meeting that it would use the PCE as its primary measure of inflation, preferring it for three primary reasons:
The expenditure weights in the PCE can change as people substitute away from some goods and services toward others. Thus, if the price of bread goes up, people buy less bread, and the PCE uses a new basket of goods that accounts for people buying less bread. The CPI, however, is less fluid in response to changing consumer preferences.
The PCE includes more comprehensive coverage of goods and services.
PCE data can be revised more extensively than the CPI, which can only be adjusted for seasonal factors and only for the previous five years.
In summary, the CPI represents a basket of goods and services that a consumer would buy without making substitution changes when prices change. The PCE encompasses a broader range of goods and services than the CPI, from a broader range of buyers. It tries to track what is actually purchased, and represents how consumers change their buying patterns when relative prices change. This leads to smoother price changes in the PCE and typically lower levels of reported inflation, at least as experienced by consumers.
Projecting future inflation is tricky in placid times, and trying to do so as the U.S. economy rebounds from pandemic lockdowns (with highly contagious variants potentially complicating the re-opening picture) is even more daunting. One key issue affecting inflation is the labor market, and it is worth paying attention to underlying trends. Wage pressures have been muted so far, but it is reasonable to expect any future pay increases will be reflected in goods and services in time and thus show up in both CPI and PCE. For more detail about the labor market and inflation, please see my colleague Jim Van Heuit's blog post.