"Food deserts" represent areas of the United States where people have limited access to a variety of healthy and affordable food. Some of the most comprehensive research on the topic comes from a 2012 study conducted by the U.S. Department of Agriculture (USDA) Economic Research Service. This study, which defined "limited access" based on a census tract's distance from a large grocery store or supermarket, found that food deserts often feature a large share of households with low incomes, inadequate access to transportation, and a limited number of food retailers providing fresh produce and healthy groceries for affordable prices. This study also found that:
Areas with higher levels of poverty were more likely to be food deserts. For other factors, such as vehicle availability and use of public transportation, the association with food desert status varied across very dense urban areas, less dense urban areas, and rural areas.
In all but very dense urban areas, the higher the percentage of minority population, the more likely the area was to be a food desert.
Residents in the Northeast were less likely to live far from a store than their counterparts in other regions of the country with similar income levels.
Rural areas experiencing population growth were less likely to be food deserts.
Food Desert Investments: Highlights
These characteristics present both opportunities and risks from an investment perspective.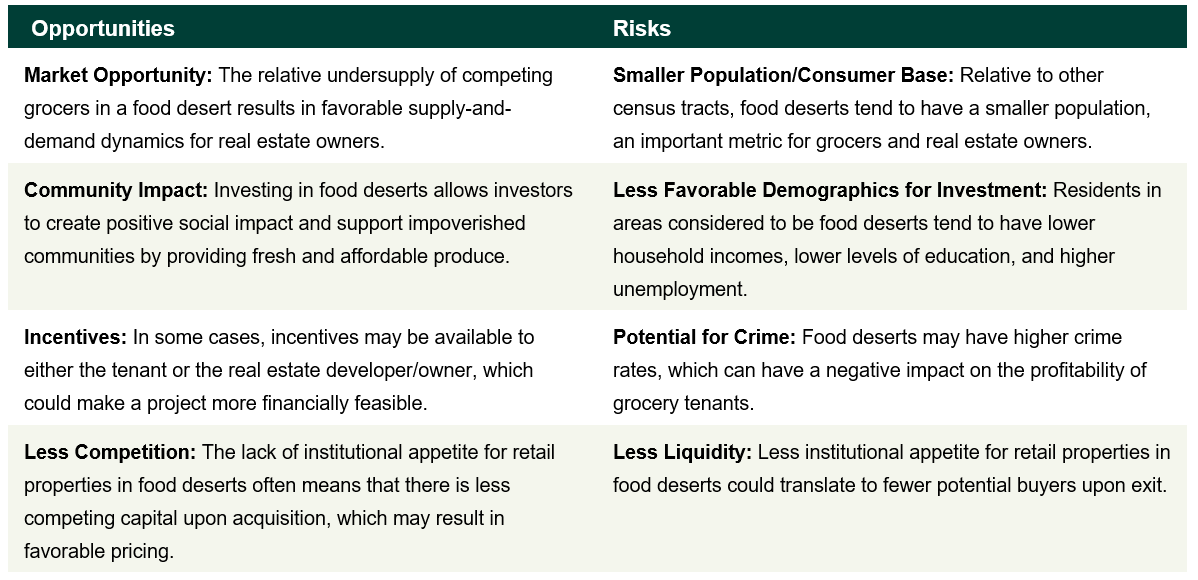 Institutional investment in food deserts to date has been limited, based on Callan's research. Traditional real estate investment managers have tended to shy away from food deserts, primarily citing unfavorable demographics and fundamentals. A handful of institutional real estate funds own retail centers anchored by grocery stores that would become food deserts if the grocer were to leave, increasing the importance of responsible ownership. Managers note that expanding the square footage of the grocer to provide additional fresh produce options has been an impactful and profitable strategy for these centers. There are few examples of ground-up development of a retail center where a new grocer was established in an area that was previously considered to be a food desert. Callan notes that the activity of opportunity zone funds may have some impact on investment in food deserts, as there is approximately a 30% overlap between opportunity zones and food deserts, according to J.P. Morgan Asset Management.
Much of the activity in food deserts has come from Community Development Financial Institutions (CDFIs) such as the Reinvestment Fund in Philadelphia and IFF in Chicago. Additionally, impact investors and philanthropic organizations have also been active with retail projects in food deserts.
While food desert investments have not been prevalent in institutional real estate portfolios, and this appears unlikely to change anytime soon, increasing government incentives and additional sources of financing for both retailers and real estate developers/owners may help support food desert opportunities in the future.
Disclosures
The Callan Institute (the "Institute") is, and will be, the sole owner and copyright holder of all material prepared or developed by the Institute. No party has the right to reproduce, revise, resell, disseminate externally, disseminate to any affiliate firms, or post on internal websites any part of any material prepared or developed by the Institute, without the Institute's permission. Institute clients only have the right to utilize such material internally in their business.