Incorporation of environmental, social, and governance (ESG) factors has seen a meteoric rise in usage among institutional investors over the last several years. While not every institutional investor actively incorporates these factors into their investment decision-making process today, the rate of adoption and frequency of discussion among Callan's clients has continued to increase substantially. Nowhere is this more evident than among nonprofits, in particular endowments and foundations. According to Callan's 2019 ESG Survey, 58% of endowments and 44% of foundations incorporate ESG factors into their investment decisions.
Over time, endowments and foundations have incorporated ESG factors at a higher rate than other institutional investor types Callan has surveyed. Often the first step in implementing ESG factors into investment decisions is codifying a definition of ESG that is consistent with an organization's overall goals and philosophy. This can be a more straightforward process at mission-focused endowments and foundations, which have supported early adoption within the sector.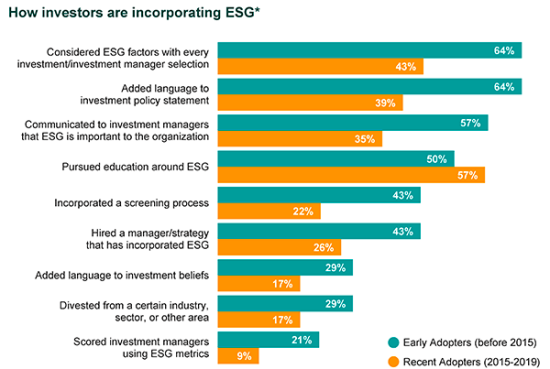 More recent adopters of ESG have pursued education to help them define what the term means to them, often leading to the inclusion of ESG language in investment policy statements and investment beliefs. In aggregate, just over half of investors across both early and recent adopters consider ESG factors with every investment decision.
At Callan, we have seen clients evolve and refine their use of ESG factors in portfolios. What began as an effort to simply avoid investment in controversial companies, industries, and countries (divestment) soon evolved to also actively investing in companies that create positive impact in areas that fall under the environmental, social, and governance pillars.
When asked about the rationale for incorporating ESG factors into the investment decision-making process, 100% of foundations stated their reason was to align their portfolio with their organization's values. In contrast, 86% of endowments stated that addressing stakeholder concerns—including student groups, donors, board members, investment staff, and employees—was a driver.
What are investors going to be considering in the future? When asked what changes were planned over the next one to three years, more than one-third (35%) of respondents will seek to broaden the scope of ESG incorporation. Specifically, respondents indicated they will look to incorporate ESG by:
Adding real assets and fixed income
Seeking managers with better ESG processes and outcomes
Using new or different reporting frameworks
Including more impact investing
Enhancing engagement and monitoring
Developing policies (e.g., investment beliefs, proxy voting)
Interestingly, real assets and fixed income are newer, and often untapped, areas of ESG momentum—and they're gaining momentum relative to public equities. In the case of real assets, they offer the opportunity to invest directly in sustainable real estate and infrastructure. With fixed income, investors can select bonds that target areas of specific social and environmental impact.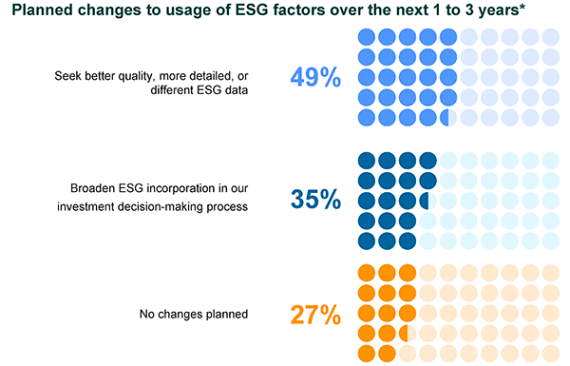 Impact investing, thematic ESG funds, and ESG integration can all target specific areas for investment that emphasize financial returns in addition to positive societal or environmental change. Areas targeted for positive change, according to the survey, include local economic benefit, the environment, clean tech, diversity and inclusion, poverty alleviation, and education.
"Environmental" areas flagged for positive impact include clean energy, sustainable and regenerative agriculture, the transition to a low carbon economy, water (access to and waste water solutions), and pollution. Additional "other" categories include general impact investing in private equity, ministry support, and church investment.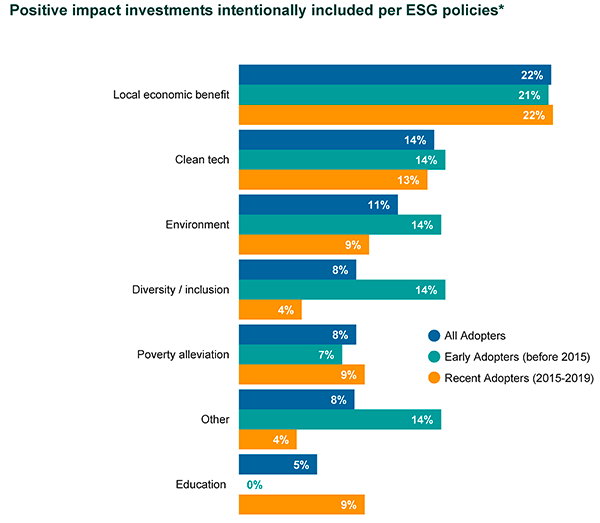 The biggest challenge to effectively analyze ESG factors within portfolios—and often a hurdle to general adoption—is the varied nature of how data is scored and reported among managers and data providers. The desire for consistent and reliable data is at the forefront of investors' concerns when being able to effectively analyze the impact of asset owners' investments. Of survey respondents, 49% that have incorporated ESG factors in investment decision-making will seek better quality, more detailed, or different ESG data in the coming years. The industry's ability to agree on a consistent data reporting framework will likely continue to drive adoption of ESG factors in the future as the ability to assess these factors becomes more transparent and sophisticated.
While ESG investing in the U.S. may lag other regions around the world, all signs point to an upward trend—adoption will continue to grow among institutional investors.