Private real estate indices fell again in 3Q23, continuing a trend throughout the year, and U.S. real estate investment trusts (REITs) also dropped, unlike last quarter. But their performance lagged comparable public equity benchmarks, as they did last quarter.
Asian REITs also dropped, while European REITs showed gains, benefitting from German stocks and accommodative monetary policy.
Private real estate valuations reflect higher interest rates
The NCREIF Property Index, a measure of U.S. institutional real estate assets, fell 1.4% during 3Q23. The income return was 1.1% while the appreciation return was –2.4%.
Hotels, which represent a small portion of the index, led property sector performance with a gain of 1.9%. Office finished last with a loss of 3.7%.
Regionally, the South led with a loss of 0.5%, while the West was the worst performer with a drop of 1.8%.
Income returns were positive across sectors and regions.
All property sectors and regions experienced negative appreciation.
The NCREIF Open-End Diversified Core Equity (ODCE) Index, representing equity ownership positions in U.S. core real estate, fell 2.1% during 3Q.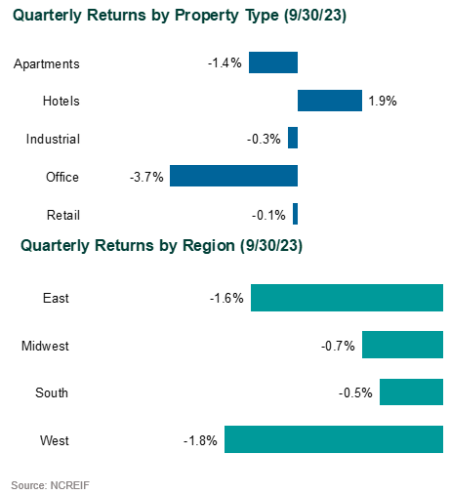 REITs lag equities, globally and in the U.S.
U.S. REITs fell 7.1% in 3Q23, in contrast with the S&P 500 Index, which declined 3.3%.
The underperformance in the U.S. was driven by the resilient U.S. economy, but a stronger-than-expected economy spelled trouble for rate-sensitive stocks as real rates continued to rise and the yield curve steepened.
Global REITs underperformed in 3Q23, falling 5.9% compared to a 3.5% decline for global equities (MSCI World).
REITs are now trading at a discount to NAV (-16%) and offer relative value given the recent selloff.
Historically, global REITS have traded at a -5% discount to NAV.
The FTSE EPRA Nareit Developed Asia Index (USD) fell 4.3% during the quarter.
The FTSE EPRA Nareit Developed Europe Index (USD) increased by 1.2% during the quarter. German real estate stocks stood out as the top performers, benefiting from the European Central Bank's perceived shift to a more accommodative monetary policy stance, potentially marking the end of its rate-hiking cycle.
Conversely, U.K. self-storage stocks underperformed due to reduced demand from businesses and the ongoing housing market sluggishness.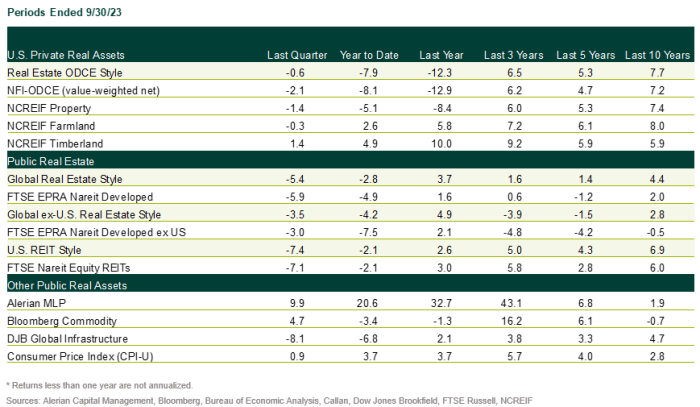 Disclosures
The Callan Institute (the "Institute") is, and will be, the sole owner and copyright holder of all material prepared or developed by the Institute. No party has the right to reproduce, revise, resell, disseminate externally, disseminate to any affiliate firms, or post on internal websites any part of any material prepared or developed by the Institute, without the Institute's permission. Institute clients only have the right to utilize such material internally in their business.