Private real estate rose during 3Q22, showing slight gains in a quarter marked by declines in equities and fixed income. U.S. and global ex-U.S. REITs fell and underperformed equity indices, due to the cloudy economic outlook as well as a sizeable upward move in U.S. government bond yields. Real assets as a group posted negative returns in 3Q, with commodity prices declining over slowing global growth.
Commercial Real Estate Gains
The NCREIF Property Index, an unlevered measure of U.S. institutional real estate assets, rose 0.6% during 3Q. The income return was 0.9%; the appreciation return was -0.4%.
Hotels, which represent a small portion of the index, led property sector performance with a gain of 2.7%. Office finished last with a loss of 0.7%.
Regionally, the South led with a 1.1% gain, while the Midwest was the worst performer but still rose 0.2%.
The NCREIF Open-End Diversified Core Equity Index, representing equity ownership positions in U.S. core real estate with leverage, rose 0.3% during 3Q, with an income return of 0.6% and an appreciation return of -0.3%.
While all property sectors traded lower during the quarter, the sectors that were most resilient included self-storage and hotels amid strong fundamentals and pricing power. Malls also outperformed after being a meaningful laggard year to date.
The poorest-performing sectors included data centers, due to fears around power costs and higher cost of capital; office, due to sluggish return-to-office momentum; and health care, due to labor cost pressures in senior housing.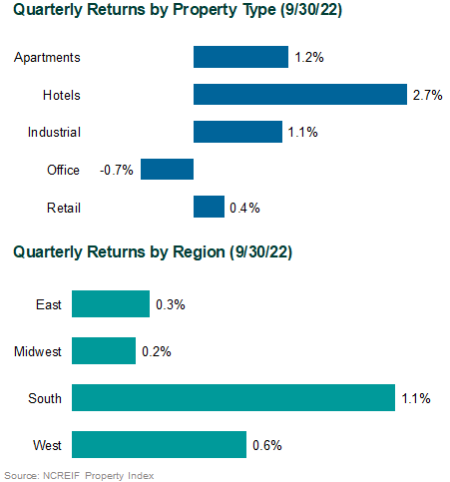 REITs Lag Equities
The FTSE Nareit Equity REITs Index, representing U.S. REITs, dropped 9.9%, underperforming the S&P 500 (-4.9%) but exhibiting strong performance relative to European REITs.
The FTSE EPRA Nareit Developed Europe Index (USD) fell 21.7% during the quarter, led by the United Kingdom (-25.9%), which lagged on the new government's approach to a debt-financed fiscal expansion that resulted in a sharp decline in the pound and government bonds.
Continental Europe (-19.2%) performed better on a relative basis, but was still weighed down by currency headwinds, accelerating inflation, rate hike expectations, soaring energy prices, and continued conflict between Russia and Ukraine.
The FTSE EPRA Nareit Developed Asia Index (USD) fell 9.4% during the quarter.
Australian REITs (-11.5%) were the weakest performers in the region, driven by concerns over slowing demand in office and cap rate expansion in industrial stocks.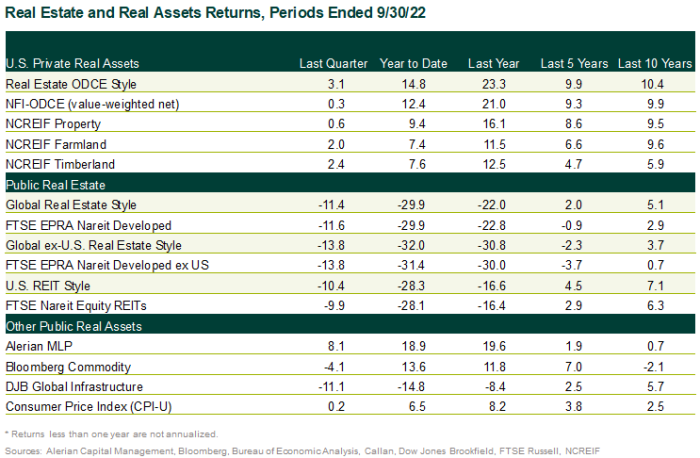 Widespread Losses for Real Assets
The S&P GSCI Index fell 10.3%. WTI Crude closed the quarter at $79/barrel, down more than 20% from 2Q.
Gold (S&P Gold Spot Price Index: -7.5%), listed infrastructure (DJB Global Infrastructure: -11.1%), and TIPS (Bloomberg TIPS: -5.1%) also declined.
Disclosures
Certain information herein has been compiled by Callan and is based on information provided by a variety of sources believed to be reliable for which Callan has not necessarily verified the accuracy or completeness of or updated. This report is for informational purposes only and should not be construed as legal or tax advice on any matter. Any investment decision you make on the basis of this report is your sole responsibility. You should consult with legal and tax advisers before applying any of this information to your particular situation. Reference in this report to any product, service, or entity should not be construed as a recommendation, approval, affiliation, or endorsement of such product, service, or entity by Callan. Past performance is no guarantee of future results. This report may consist of statements of opinion, which are made as of the date they are expressed and are not statements of fact. The Callan Institute (the "Institute") is, and will be, the sole owner and copyright holder of all material prepared or developed by the Institute. No party has the right to reproduce, revise, resell, disseminate externally, disseminate to subsidiaries or parents, or post on internal web sites any part of any material prepared or developed by the Institute, without the Institute's permission. Institute clients only have the right to utilize such material internally in their business.