ODCE gains 4.5% in 2Q22; the NPI rises 3.2%
Core real estate delivered another robust quarter, with strong fundamentals in the Industrial and Multifamily sectors; the NFI-ODCE Index (value-weighted, net of fees) gained 4.5% in 2Q22 and 12.0% year-to-date (YTD). Real estate returns are expected to moderate to 10% in 2022 and 8% in 2023. Commercial real estate remains attractive to investors with its yield relative to bonds, lower volatility profile, inflation-hedging properties, and cash-flowing characteristics.
The NCREIF Property Index, a measure of U.S. institutional real estate assets, rose 3.2% during 2Q22. The income return was 1.0% and the appreciation return was 2.3%.
Industrial led property sector performance with a gain of 5.9%. Office finished last with an increase of 0.6%.
Regionally, the West led with a 3.9% increase, while the Midwest was the worst performer but still gained 1.3%.
Transaction volumes are slowing as interest rates rise and economic uncertainty increases. Some experts expect transaction volumes of $800 billion, $725 billion, and $750 billion in 2022/2023/2024, respectively.
The Industrial and Multifamily sectors are expected to see continued rent growth.
Office vacancy is expected to stay above long-term averages for the near term.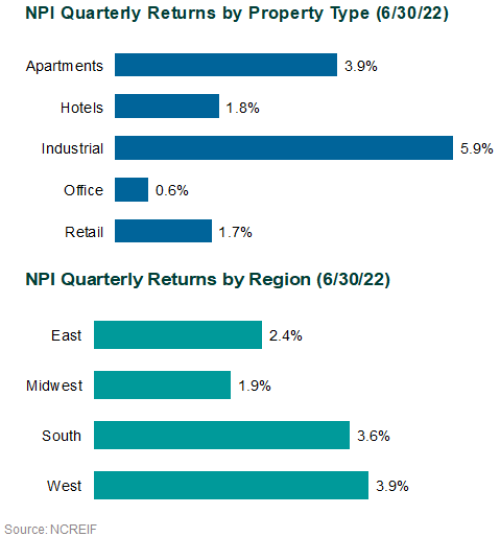 Public real estate trails equities
REITs, both in the United States and globally, underperformed in 2Q22. Economic uncertainty took hold as rising rates and fears of a recession contributed to a market sell-off. Defensive sectors with more predictable income outperformed, led by data centers, net lease properties, and manufactured housing. On the other end, economically sensitive sectors underperformed; malls, office, and hotels faltered.
The FTSE EPRA Nareit Developed Index, a measure of global REITs, fell 17.4% in 2Q22 compared to a 15.8% drop for global equities (MSCI World).
The FTSE Nareit Equity REITs index, measuring U.S. REITs, dropped 17.0%, in contrast with the S&P 500 Index, which lost 16.1%.
The FTSE EPRA Nareit Asia Index (USD), representing the Asia/Pacific region, fell 9.4%.
The FTSE EPRA Nareit Developed Europe Index (USD) fell 28.6% during the quarter, led by Continental Europe (-30.6%) as inflation persisted and the European Central Bank focused on controlling inflation, raising fears of a recession.
REITs are now trading at a discount to NAV and offer relative value given the strength of underlying fundamentals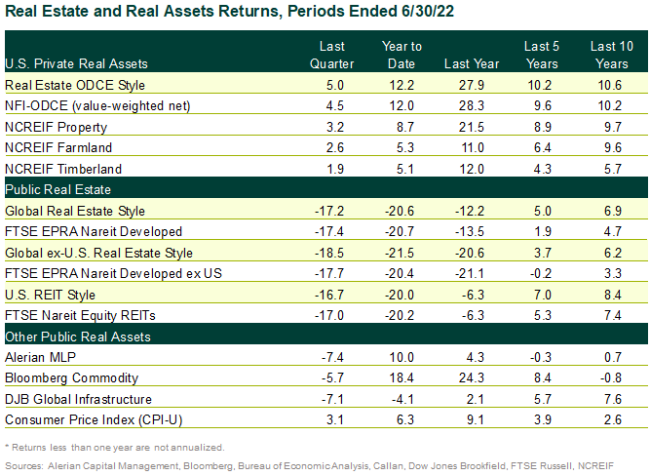 Real assets see widespread drops
Following very strong 1Q results, real assets as a group posted negative returns in 2Q as concerns over slowing global growth mounted.
A lone exception was the energy-heavy S&P GSCI Index, which eked out a 2.0% gain during the quarter.
The Bloomberg Commodity TR Index fell 5.7%.
WTI Crude closed the quarter at $106/barrel, up from $100 on 3/31/22 and $76 at year-end.
Gold (S&P Gold Spot Price Index: -7.5%), listed infrastructure (DJB Global Infrastructure: -7.1%), REITs (MSCI US REIT: -16.9%), and TIPS (Bloomberg TIPS: -6.1%) declined.