Callan's inaugural 2023 Asset Manager ESG Study revealed some notable developments and trends. The survey captured responses to Callan's set of ESG questions from more than 1,200 investment managers across the world and spanning a broad array of public and private asset classes.
While equity was the primary asset class at 50% of the respondents, fixed income, real estate, and private markets all had meaningful representation. Not surprisingly, most (over 60%) of the respondents were small firms, less than $10 billion in assets under management (AUM), while 11% represented firms over $100 billion. Just over 80% were U.S. firms. The survey reflects data as of 3/31/23, and we expect to update it every other year.
Key Takeaways from Our 2023 ESG Study
ESG considerations have gained traction in recent years with nearly 75% of firms having an ESG policy and an equal percentage incorporating ESG considerations across the investment platform.
Callan's proprietary ESG Score is quantitively based and is a high-level assessment of a firm's adherence to industry best practices around ESG. The score ranges from 0-3. For all managers, the median ESG score was 2.0.
Nearly 70% of all managers subscribe to third-party ESG research. Not surprisingly, this is most common for public equity and fixed income managers.
Engagement on ESG matters is most common (>70%) for private equity managers. Equity (55%), fixed income (54%), and real estate (58%) were similar with respect to engagement.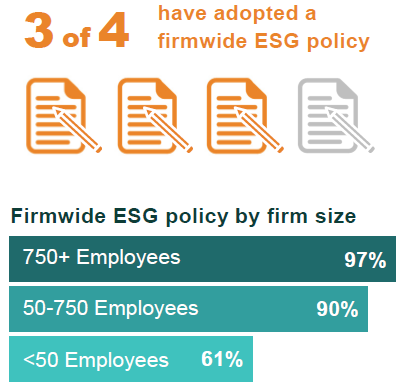 Larger organizations are more likely to have the resources to devote to ESG, and this is reflected in a discernable skew in several areas:

A higher ESG Score: The median for large organizations was 2.8 versus 1.4 for small firms.
A published firmwide ESG policy: Virtually all companies over $50 billion have a policy whereas only 60% of smaller companies have one.
A quarterly or annual sustainability report: Nearly 90% of large firms publish a report that highlights the firm's efforts around engagement, ESG research, and internal achievements, while just over 20% of smaller firms do.
Full-time ESG employees: Roughly 90% of large firms have dedicated ESG employees compared to about 20% for small firms.
An internal repository for all ESG research: Fewer than 50% of small firms have an accessible, centralized ESG research portal while more than 70% over $10 billion have this resource.
Proxy voting policies that address ESG: While more than 75% of firms over $10 billion answered "yes" to this question, fewer than 50% of those under $10 billion did so.
Engagement on ESG topics: This is also more common for large managers (>85%) relative to small firms (<45%).
Non-U.S. organizations outpace the U.S. in a number of areas.
About one-third of U.S. investment managers publish a sustainability report compared to over half of non-U.S. respondents.
Carbon-footprinting is a more common capability outside of the U.S. Only about 40% of U.S. firms have this ability versus well over half of non-U.S. companies.
Slightly over 50% of U.S. equity managers have proxy policies that address ESG compared to more than 80% for those outside the U.S.
Engagement on ESG matters is incorporated into the investment process at more than 75% of non-U.S. firms versus just 50% for those in the U.S.
Disclosures
The Callan Institute (the "Institute") is, and will be, the sole owner and copyright holder of all material prepared or developed by the Institute. No party has the right to reproduce, revise, resell, disseminate externally, disseminate to any affiliate firms, or post on internal websites any part of any material prepared or developed by the Institute, without the Institute's permission. Institute clients only have the right to utilize such material internally in their business.