Callan's annual survey on environmental, social, and governance (ESG) principles is designed to better understand the views of institutional investors and the trends driving ESG adoption. In our recently published 2021 ESG Survey, we found that 49% of respondents incorporated ESG into their investment decision-making process, up 7 percentage points from the previous year's level and more than double the share in 2013.
As significantly, we found that 40% of respondents not yet incorporating ESG were considering doing so, the highest share in the survey's nine-year history and more than three times the level as recently as 2019. This brought the percentage of those either incorporating or thinking about incorporating ESG to 70% of all respondents in 2021.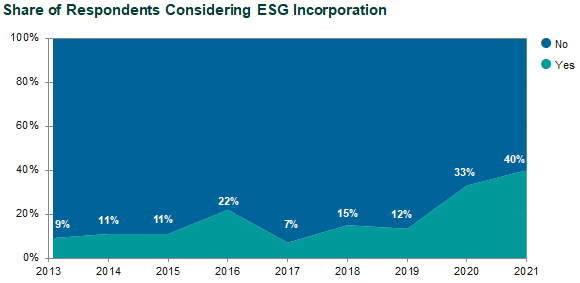 This year's survey reflects input from 114 U.S. institutional investors. Respondents included public and corporate DB and DC plans, as well as endowments and foundations, with assets under management (AUM) ranging from small (under $500 million) to large (more than $20 billion). Nearly 4 in 10 respondents were endowments or foundations, which as a combined group was the largest investor type represented. By size, respondents were relatively evenly split between small, mid-sized, and large plans. By sector, the largest share (35%) came from the government.
Survey highlights:
Adoption over time: More than half of respondents that incorporated ESG began doing so within the last five years.
Investor type: Public plans (63%) incorporated ESG at the highest level among survey participants. They were closely followed by foundations (57%) and endowments (50%). Only 20% of corporate plans incorporated ESG, a trend in line with the survey's findings over the years.
Investor size: 72% of large plans incorporated ESG, and adoption rose as plan size increased.
Defined contribution plans: The survey also highlighted data from the proprietary Callan DC Index™ and the Callan DC Survey and reported that 13% of DC plans offered a dedicated ESG option. Usage remained low, however, with an average allocation of 1.2%. But there has been a steady increase in the share of plan sponsors that added an ESG option in the year prior to the publication of each DC Survey.
Investor location: ESG adoption was highest by investors in the Northeast and lowest by those in the Central region.
Those not incorporating it: Despite the trend toward adoption, 51% of respondents did not incorporate ESG into investment decision-making—although as noted earlier, 40% of those are considering it. Roughly the same share of respondents not incorporating ESG said its benefits are unproven or unclear.
Motivations: The most frequently cited reason by respondents for incorporating ESG was to align their portfolio with their values, followed closely by fiduciary responsibility.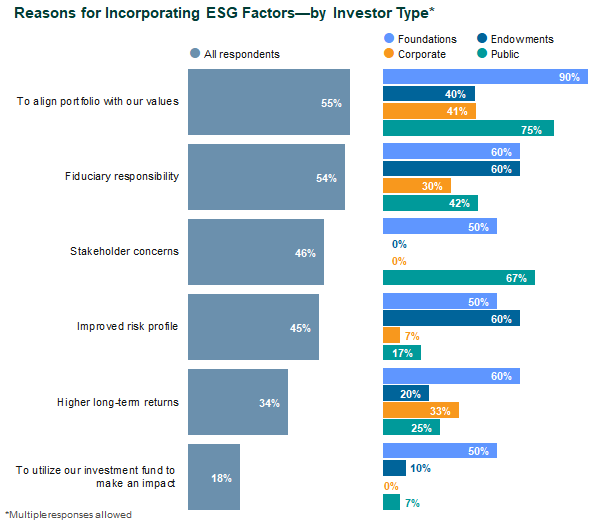 Allocations: Only 17% of respondents that incorporated ESG maintained an ESG allocation separate from their main portfolio, indicating broader integration is preferred.
Environmental actions: The most common action taken to address material environmental risks and opportunities was shareholder advocacy (27% of respondents incorporating ESG).
Implementation: The most common form of ESG incorporation in the investment decision-making process was the pursuit of education on the topic, with nearly two-thirds of respondents that incorporated ESG doing this. And nearly two-thirds of investors that incorporated ESG also communicated to managers that ESG was important to the fund or considered ESG factors with every investment/investment manager selection.
Coronavirus impact: 54% of respondents said the COVID-19 pandemic has had no impact on their planned ESG initiatives, while 9% believed the pandemic will cause them to increase their pace of ESG adoption.
Product interest: Private equity (27%) led the list of strategies for which those implementing ESG would like to see more options. Of those not incorporating ESG, active U.S. equity (31%) was the top asset class of interest.
Future direction: 39% of respondents that had incorporated ESG factors in investment decision-making did not plan to make any changes to their usage of ESG factors in the coming years.