Institutional investors have been grappling for years with the issue of quantifying non-financial investment considerations and applying them to an investment decision-making framework. This is true for defining environmental, social, and governance (ESG) factors, but despite the challenges investors are persisting in finding novel solutions. And as research, data, and resources become more robust and widely available for investors, ESG implementation continues to gain traction in the U.S., Callan's latest survey found—but also continues to vary from investor to investor.
Callan's 2019 ESG Survey found a similar percentage of U.S.-based investors using an ESG lens when assessing investments in 2019 as in 2018—but the upward trend over time is unmistakable. Incorporation of ESG factors into the investment decision-making process nearly doubled to 42% in 2019 compared to 22% in 2013.
Exhibit: Funds that incorporate ESG into investment decisions (U.S. investors only)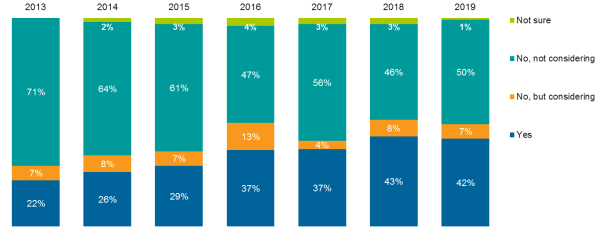 Making ESG considerations part of the framework for analyzing securities and projecting investment outcomes is relatively new for many U.S. investors—62% of those surveyed in 2019 began implementing ESG in the last five years. Given the broad scope of categories that fall under the ESG umbrella (from climate change to firearms to labor rights), implementation in practice can look very different from investor to investor.
Our 2019 survey compared areas targeted for positive impact by early ESG adopters (before 2015) and recent adopters (2015 or later), and found that while some issues have consistent traction with both groups (local economic benefit, clean technology), differences emerged around other areas. Early adopters were more likely to be focused on diversity/inclusion and the environment than recent adopters; recent adopters were more likely to be targeting education.
Exhibit: Positive impact investments intentionally included per ESG policies*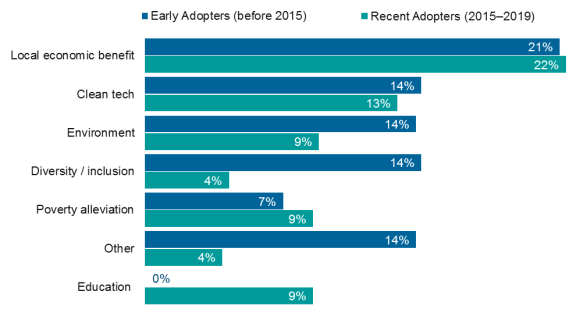 While multiple issues fall under the Environmental pillar, climate change is emerging as a dominant theme across investors, as organizations such as the Task Force on Climate-related Financial Disclosures (TCFD) and the Sustainable Accounting Standards Board (SASB) encourage adoption of a consistent template for reporting on financially material climate-change risks and opportunities.
This is the seventh survey we have conducted, and over that time the trends seem clear: increasing adoption in the U.S., even as implementation varies by investor. At the same time, the groundswell of research, data, and global investor collaboration is paving the way for fresh investors to consider how ESG might complement their investment decision-making framework, and for experienced ESG investors to go deeper across their portfolio.