Real Estate Performance: Strongest gains for ODCE in history
The NFI-ODCE Index posted its best return ever in 3Q21; Industrial was the top performer.
Income returns were positive except for the Hotel and Retail sectors.
Appraisers are pricing in a recovery due to strong fundamentals in Industrial and Multifamily.
Return dispersion by manager within the ODCE Index was due to the composition of underlying portfolios.
Compression in vacancy rates
Vacancy rates kept compressing in Industrial and Multifamily as demand continued.
Net operating income remained negative for Retail but its recovery continued; pent-up demand is evident through foot traffic in retail centers.
3Q21 rent collections have stabilized across all sectors.
Demand outpaced supply as new construction of preleased Industrial and Multifamily occurred.
Gains in transaction volume
Transaction volume increased quarter over quarter led by Multifamily and Industrial assets with strong credit tenants, which are trading at higher values than pre-COVID-19 levels.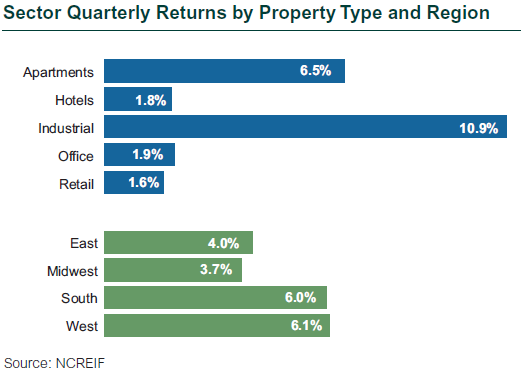 Global REITs trailed equities; U.S. REITs outperformed
Global REITs underperformed in 3Q21, falling 0.9% compared to 0.0% for global equities (MSCI World).
U.S. REITs rose 1.0% in 3Q21, beating the S&P 500 Index, which gained 0.6%.
Global REITs were trading below NAV, except for those in Singapore, Japan, the United States, and Canada.
Property sectors were mixed between trading at a discount or premium.
Ongoing volatility in REIT share prices offers opportunities to purchase mispriced securities, individual assets from REIT owners, and discounted debt, as well as to lend to companies and/or execute take-privates of public companies.