This month Callan conducted a survey aimed at gauging how investment managers have been coping with the impact of COVID-19 and the subsequent quarantine on their operations, and to gather insights about their plans. As our industry navigates the uncertainty, devastation, and confusion surrounding the pandemic, we found that managers across the globe are working to develop policies and procedures that ensure a safe work environment for employees. With the vast majority of the respondents' offices remaining closed, investment managers have successfully tested their virtual networks and business continuity plans, and they have done a significant amount of work to adjust their day-to-day operations in this new and uncertain environment.
Our survey reflects the views of 108 firms representing a wide range of ownership structures, firm sizes, assets under management, and locations. Our questions focused on office closures, subsequent plans to reopen, work-from-home policies, virtual meetings, and travel restrictions.
Among our main findings:
Remote work was nearly universal, with signs that it could become permanent for large fractions of managers' workforces.
Office closures and reopenings varied by firm size, with a significant share of respondents uncertain of when workers might return to their desks.
Managers embraced video calls as a way to stay connected with clients.
With marketing, consultant relations, and client services professionals once spending a significant portion of their careers on airplanes, travel restrictions and bans have forced firms to explore new and creative virtual avenues for reaching their constituents.
The Office, Now and in the Future
Offices remained closed for 84% of the respondents.
97% of respondents banned outside visitors.
A greater percentage of smaller firms (<$50 billion in assets under management) kept their offices open relative to larger firms, and almost one-third of the offices in the Southeast were open versus 25% or less for other regions.
Approximately 60% of respondents had a specified reopening date, with half of those noting July or earlier and 96% indicating they planned to reopen by mid-September.
A majority of smaller firms had either already opened or planned to by July, while a majority of larger firms planned to reopen in August or later.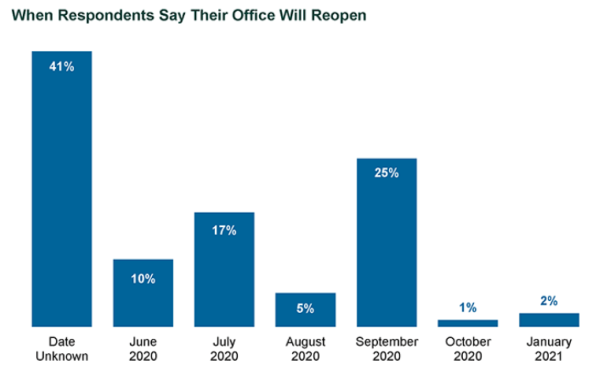 New Work-Life Arrangements
The vast majority of employees were working remotely across essentially all firms regardless of firm size and location. 87% of those surveyed said that a minimum of 90% of employees were working from home.
Only 2% said that less than 50% of employees were working from home.
Just over half of the respondents anticipated that some employees will work permanently from home, with the majority of those noting that one-third or fewer employees will have this arrangement.
Virtual Meetings, and Still a Lot of Them
48% of respondents conducted at least 80% of interactions with clients and consultants via video conference call in May, with firms out of the Northeast having the highest prevalence of video conference calls.
More than 40% of respondents conducted all of their meetings via video conference call.
Nearly two-thirds of respondents said the number of meetings they had in May either increased or stayed the same from the same time last year.
Most Uncertain About a Travel Restart
Just under half of the respondents provided an anticipated date for resumption of travel, with the majority of those targeting Sept. 8 (the Tuesday after Labor Day) or earlier.
10% said they will not resume business travel until January.
Of those with a date for resuming travel, 68% of larger firms (>$50bn) were targeting Sept. 8 or earlier for travel resumption vs. 53% for firms with under $50bn in AUM.
But for the majority of respondents, the date was uncertain. And nearly half of the respondents that were uncertain about resuming business travel hailed from the Northeast.