With rising case counts stemming from the Omicron variant, and concerns about interest rates and inflation, volatility in the markets spiked in 4Q21.
For large cap growth investment managers, pro-cyclical positioning generally hurt portfolios given those fears. In addition, the growth and quality trade reversed at the end of the quarter when Fed Chairman Jerome Powell provided tapering guidance, indicating it could move ahead at its next meeting, setting off a spike in rates and volatility.
It has been difficult to be an active manager in recent time periods. More than 90% of large cap growth managers underperformed the benchmark for the quarter, and 85% for the year, according to Lipper. This echoes Callan data, which found that only 15% of the managers in our Callan Large Cap Growth Peer Group topped the Russell 1000 Growth Index in the quarter, and only 8% of the managers in our Callan Large Cap Growth Mutual Fund Peer Group. For the year the figures were better: 25% and 16%, respectively.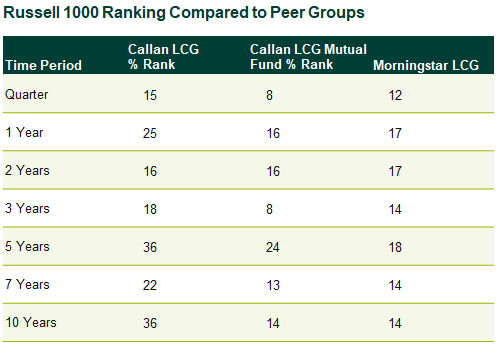 Headwinds for Large Cap Growth Managers
From their peaks during the quarter, stocks with the highest growth factor declined 34% while low-volatility (i.e., defensive) stocks rose 2%. The causes of the high growth stock sell-off were multifaceted: rich starting valuations for many high-growth companies, inflation levels pointing to higher discount rates for future cash flows, and stronger near-term economic activity that reduced the relative scarcity of growth.
The top 10 stocks in the Russell 1000 Growth Index accounted for about half of its market capitalization and contributed 65% of 4Q21 returns and 60% of full-year returns. The top five contributors represented nearly 35% of the market cap for the full year and 52% of the return. Given that concentration, many large cap growth managers were hurt by what they did not own, specifically, Apple and Tesla.
Other detractors included a sell-off in shares of Twilio after disappointing 3Q earnings, a drop in Zillow after it closed its home-buying business, and weakness in Chinese internet stocks amid that country's regulatory crackdown.
Another headwind for large cap growth managers stemmed from a cyclical rotation out of mid cap stocks starting in October, as supply chain and labor market issues heated up, which led to a sell-off in that segment. Large cap growth managers that had a lower market cap bias may have been impacted.