The governance committees that oversee defined contribution (DC) plans have a lot on their plate, and knowing how to make the most efficient use of the resources at their disposal is not always apparent. Effective governance of the DC plan helps employers meet fiduciary responsibilities, abide by regulatory requirements, and minimize the risk of litigation and negative press. And the stakes are higher than ever given the increasing complexity of DC plan requirements, as well as ongoing lawsuits over issues ranging from fund selection, plan fees, and overall plan monitoring and evaluation. A recently published Callan survey lays out a blueprint for investment committees to make the most of their time and energy.
To help plan sponsors better understand good governance practices, including how their peers are structuring their oversight committees, Callan fielded the DC Plan Governance Survey among large plan sponsors in May 2017. Our survey identified ways in which committee structure, composition—and even the number of meetings and those responsible for meeting agendas—have important implications for the priorities, challenges, and effectiveness of DC plan governance. Our findings reaffirmed our view that a properly structured and resourced committee serves as a critical foundation on which a DC plan thrives.
Other key findings of our survey include:
Large plans preferred to split the difference: Plans with higher participant counts were more likely to have separate committees—administrative and investment—than smaller plans, which were more likely to have a single committee.
Size matters: Across committee types, poor participation and clarity around roles corresponded with a higher-than-average number of committee members.
Improving the odds: Investment and administrative com­mittees with an even number of committee members were more likely to report challenges with strained internal resources.
Fiduciary training isn't a given: While most committees reported annual or at least periodic fiduciary training, nearly one in seven respondents from single committees noted no fiduciary training had been done.
The hand that rocks the cradle rules: The party responsible for setting the agenda influenced the committee's priorities (i.e., staff vs. committee head).
Committees tend to work: In general, respondents viewed their committees as highly effective.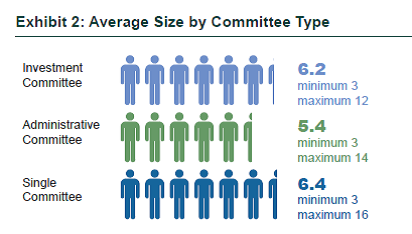 Number of organizations that responded to Callan's Governance Survey