This is an excerpt from Lauren's recent paper on data center investing, available at the link above.
The changing needs of the global population continue to impact the investable universe of institutional real assets. Data centers lie at the intersection of increased attention to non-traditional real estate property types (e.g., single-family rentals, self-storage facilities) and a growing focus on the technology infrastructure landscape. Data centers have several attractive investment attributes and an expanding set of investment options. This relatively new sector merits attention from institutional investors seeking diversification and return enhancement.
What Is a Data Center?
The computers that are ubiquitous in homes, schools, and businesses create vast data storage needs. Where does all that data go? Digital information is stored on servers housed in specialized environments equipped with temperature and humidity controls, fire protection, security, power supplies, cables or fiber, round-the-clock monitoring, maintenance, and back-ups for disaster recovery. The sheer amount of data storage, coupled with the unique requirements for maintaining servers, makes it impractical and costly for many companies to have dedicated server space on site (e.g., at the office), which used to be the norm. Today most businesses house their data in external data centers.
Data centers are classified in three main types (each with sub-types): enterprise, cloud, and colocation.
Enterprise data centers are wholly occupied by the businesses that use them. Enterprise data centers require a business to have or contract the expertise to design, build, operate, and maintain the data center, which can be expensive. Extremely large enterprise data centers are called hyperscale enterprise; these have more fiber cabling for network connections and a higher server count than standard enterprise data centers, and typically are operated by the largest technology companies as well as many telecom companies. Companies that use standalone enterprise data centers, whether hyperscale or not, may be the owner, or a third party may lease to the company. Enterprise tenants tend to be stickier than colocation tenants due to the substantial cost involved with moving servers and related IT infrastructure.
Cloud facilities are built to house applications surrounding the cloud and big data. Tenants (cloud service providers) offer clients the ability to exchange physical space and IT equipment for a subscription service, transferring physical data center needs to the cloud service provider. Just as with hyperscale enterprise data centers, hyperscale cloud facilities accommodate the largest tenants.
Colocation data centers can be thought of as the "data center equivalent of coworking," as Principal Real Estate Investors put it in an article, where multiple tenants share the data center facility just as they might share a co-working space. The owner of a colocation data center provides tenants with space, power, networking, heating, and cooling for equipment. Tenant companies lease space from the data center owner (or in circumstances where the data center operator leases space from the owner, the operator sublets space to multiple companies). According to a blog post from INAP, a data center technology consulting firm, colocation is often considered "retail" or "wholesale" depending on the footprint of the user. Smaller businesses or start-ups are typically users of retail colocation, whereas some enterprise users are tenants of wholesale colocation data centers, which provide a suite of services such as on-site staff and carrier and cloud connectivity.
Investment Characteristics of Data Center Investing
Data centers have investment characteristics similar to real estate and infrastructure. The key difference is whether the investment is only the building shell (real estate) or whether the investment is the building shell plus the capital improvements to provide data storage (e.g., power, cooling, network connectivity, physical security, racks, and cabinets) (infrastructure).
Investment generally requires expertise to navigate the nuances of operating a data center, which are different than traditional office or industrial properties.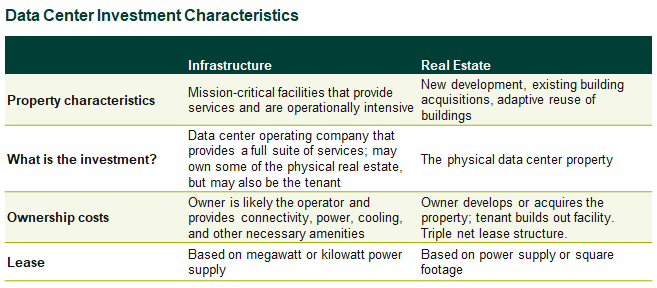 The functional obsolescence of a building is a concern with any property investment. Data centers are unique in that technological obsolescence creates another risk. In many data center investments, the functional obsolescence risk falls on the landlord, but the technological obsolescence risk falls on the tenant if it owns the servers and IT equipment. A landlord providing the shell, power, and cooling should not encounter much risk of obsolescence, as those basic services will always be required by a data center occupant, and equipment (e.g., generators, coolers, transformers, and air-handling units) typically have long lives. Data center tenants that use their own servers will likely need to upgrade as newer server models are developed.
Performance
This table shows the performance of publicly traded data center REITs against other non-traditional real estate sectors. Private data center performance is limited as it is a relatively new focus of private funds.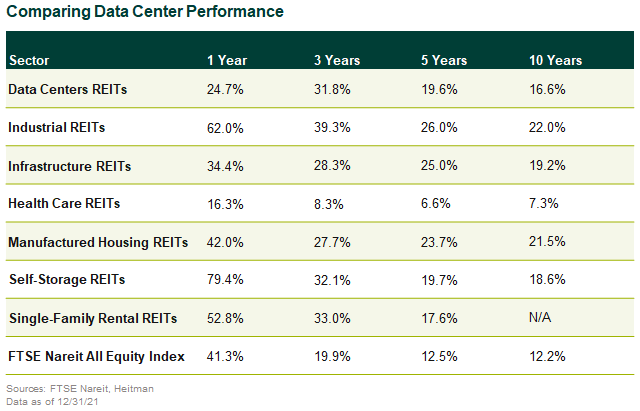 While the data center sector has seen strong absolute performance and compares favorably against the broad REIT index, data centers lagged the index in 2021. Growth prospects for the sector coupled with data centers trading at a discount to their net asset value drove strong returns from 2015 to 2020. As more investors entered the sector and cap rates compressed, data centers traded at a premium to net asset value and had below-average cash flow growth over 2021.
Conclusion
The digital footprint of individuals and businesses is exploding, creating more demand for data centers while global supply is relatively low, making them attractive investment opportunities. The sector is still relatively new compared to more traditional property types, especially for private investment. Importantly, operational expertise is necessary to successfully invest in and manage a data center given the unique power requirements, capital improvements, and other nuances. Investors have more investment options as the universe of qualified investment managers/operators is rapidly expanding. It is essential that investors fully understand the various types of data center investments to assess the risks and opportunities associated with each strategy.
Once an investor understands what form a data center investment will take, there are numerous other considerations, as with any real estate or infrastructure investment, including: where existing buildings or land are pricing; understanding the basis for that pricing as more and more capital seeks out investment in the space; where the center is located; and who the tenants will be.