Over a year ago, the vast majority of us carved out workspaces at home in anticipation of a three- or four-month remote working environment (which at the time seemed preposterous). Thirteen months later, most of us continue to Zoom from home, although with approximately 20% of the U.S. population vaccinated, a little normalcy is starting to trickle in. To better gauge where investment managers are with their work-from-home (WFH) policies at this point in the pandemic, we reached out in February for the third edition of our Coping with COVID-19 Survey and found some interesting results.
In addition to the questions we have asked in previous surveys about office re-openings, video conference platforms, and business travel, we added new questions in the most recent survey regarding hosting live events, employee benefits changes due to COVID-19, and vaccination requirements. We captured responses from 88 investment managers across the country with varying employee counts, asset bases, and ownership structures. The largest share of respondents was employee-owned organizations with assets under management in the $50 billion to $300 billion range. Offices remain closed for 82% of the respondents, and, surprisingly, fewer survey participants specified a reopening date in this most recent survey than did back in our August survey (48% vs. 56%); we are becoming wiser to the unpredictability!
Other key highlights include:
21% of respondents said they would send representatives to live events in 2021.
Only 3% of firms said they require vaccinations for those returning to the office in the near future.
Zoom continues to be the favored video platform, and about half of the respondents provide employee training on conducting successful virtual presentations.
A majority of respondents are working hard to enhance employee experiences with increased communication, town hall meetings, wellness initiatives, and smaller virtual events.
Over half of the respondents do not have a target date for reopening while 28% are shooting for the third quarter of this year. 44% of firms under $15 billion in AUM that did specify a reopening date are targeting July. And the vast majority are still prohibiting outside visitors to their offices, with no particular targeted date to welcome back guests.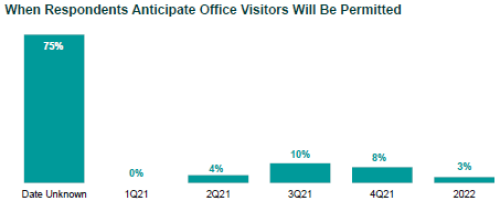 While the majority of respondents are uncertain when business travel will resume in full force, 24% are allowing travel (double our August survey response), and within the Central region, 50% of respondents are permitting travel. Only 10% of firms are prohibiting attendance at in-person events, while the majority are either on-board with live events or still considering them.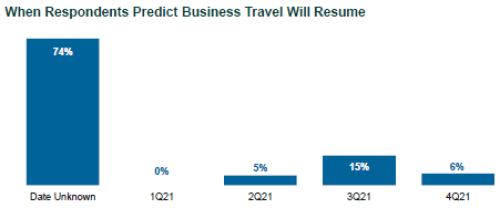 In terms of employee benefits packages, more than one-third of manager respondents have altered their policies in response to the pandemic. An additional 18% are considering changes, including increased COVID-related days off, enhanced caregiving benefits, stipends for home office equipment, virtual counseling, and online yoga.
Most respondents do not expect the current WFH situation to be as widespread as it is now (72% said 90% or more of their employees are working from home). In the latest survey, 78% of respondents expect less than 25% of their workforce to work permanently from home, while 10% believe that 50%-75% will remain remote indefinitely. Anecdotally, many firms including Callan are weighing the impact of more flexible schedules on corporate culture and trying to balance the newfound flexibility enjoyed by many with maintaining in-person interactions that ground a deeply rooted culture.
Please take a look at the full survey results, available through the link below, for a broader snapshot of where the industry is in terms of pandemic-related policies and see how decisions have evolved over the past year.