At the start of summer we reached out to investment managers to gauge how they were changing workplace policies in response to the COVID-19 pandemic. We published the results of our Coping with COVID-19 Survey in June. The purpose of the survey was to better understand how investment managers are navigating the pandemic as both Callan and the investment industry would benefit from learning what actions and policies firms are implementing in these uncertain and frequently changing times.
As summer neared its end, we decided to update this survey, once again reaching out to investment managers to gauge what changes or adjustments they have made to policies surrounding the pandemic and subsequent quarantine, and to gauge how sentiment has changed since our first survey. In addition to the questions in the initial survey, we added ones about steps taken to help employees cope with and navigate the "new normal" of working from home with limited-to-no colleague or client interaction aside from phone calls and video conferences.
For this survey we heard from 98 investment managers, most of which were mid-sized ($50 bn—$300 bn in assets under management) and employee-owned, with responses reflecting sentiment and policies as of mid-August. Overall, managers were much less optimistic in our September survey about the resumption of business as usual compared to our first survey in June. And dates to re-open and to resume business travel were pushed further out in our second survey compared to the first, with notable numbers not expecting either to begin until 2021.
Key takeaways include:
Offices remain closed for more than 80% of investment manager respondents, roughly the same as the last survey conducted in May/early June.
More uncertainty led to a drop in the percentage of investment managers that were able to provide a specific reopening date for their offices. Most of the managers with a reopening date cited 2021; in the first edition the majority expectation was September of this year.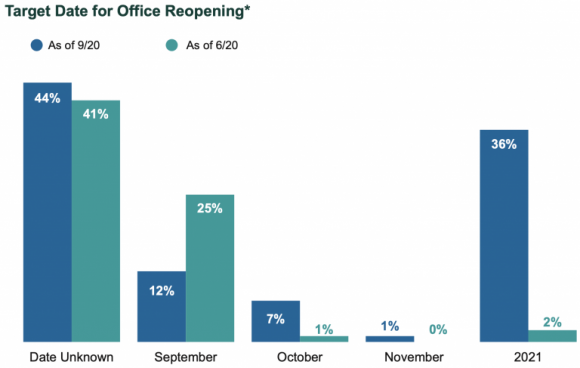 Half of respondents said they would use a phased process when they did reopen.
Nearly half of respondents conducted all of their interactions with clients and consultants via video conference calls.
While the vast majority of employees at respondent firms were working from home, a significant number of investment managers said that would not continue, with 78% saying less than 25% of employees would work from home permanently.
Zoom was by far the most popular video conferencing platform used by investment manager respondents, with almost half stating that it was their primary platform.
Virtual events (i.e., focus groups, town hall meetings, and wellness initiatives) were conducted in an effort to enhance employee engagement.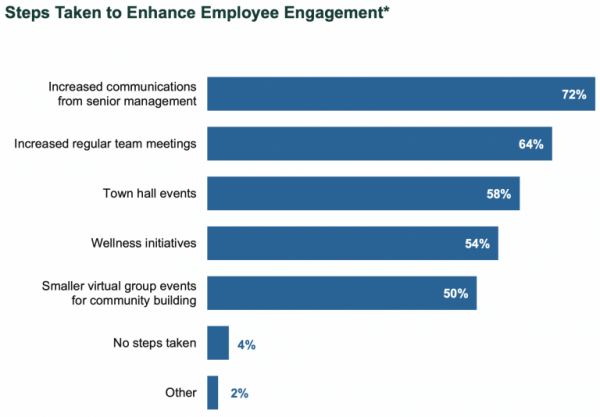 More than one-third of the respondents provided an anticipated date for resumption of travel, with the vast majority of those targeting 2021. In our previous survey, Labor Day was the date chosen by a majority of respondents.
Please find the full results of the survey below.