Private credit performance varies across sub-asset class and underlying return drivers.
Key trends in private credit
Over the past three years, the asset class has generated a net IRR of 11.8%, outperforming leveraged loans as of June 30, 2023.
It has also outperformed over longer time periods, with a net IRR of 9.5% over the last 20 years, compared to 5.3% for leveraged loans and 7.2% for corporate high yield.
Higher-risk strategies have performed better than lower-risk strategies.
Private credit remained in high demand across Callan's investor base, and a number of large pensions are looking to increase their existing private credit allocations from 2%–3% to 5%–10%.
While we always work to build out diversified client portfolios, we think there is particularly interesting relative value in upper middle market sponsor-backed lending, asset-based lending, and opportunistic/special situations.
Callan is seeing an uptick in stress for some individual names in direct lending portfolios due, in many cases, to a combination of input cost inflation and increased interest expense burden.
Continued 3Q23 rate rises across the yield curve have made private credit even more attractive than in the past.
Traditional lenders have not reentered the market in a meaningful way, allowing private credit to expand its opportunity set into larger companies, which are better credits but where loans still command high rates.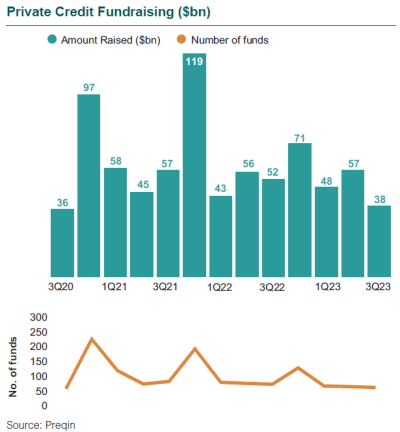 With slight increases in default rates and rating agencies predicting further increases, both opportunistic (flexible) credit funds and dedicated distressed credit funds are seeing more investor interest.
To foster ease of limited partner access and ongoing administration, more private credit general partners are launching evergreen structures and other legal structures.
Based on the success of traditional private credit, more niche and targeted strategies are being launched such as legal assets, leasing, various royalties (pharma, music), and asset-backed industry-specific funds (shipping, energy).
Finally, we are seeing a wave of consolidation across private credit asset managers as entities look to build out diversified product offerings and scale their businesses.

Disclosures
The Callan Institute (the "Institute") is, and will be, the sole owner and copyright holder of all material prepared or developed by the Institute. No party has the right to reproduce, revise, resell, disseminate externally, disseminate to any affiliate firms, or post on internal websites any part of any material prepared or developed by the Institute, without the Institute's permission. Institute clients only have the right to utilize such material internally in their business.