Global markets were volatile throughout the quarter, as persistent inflation, slowing economic growth, and interest rate hikes by central banks caused most asset classes to fall. The Federal Reserve continued to raise interest rates in July and September to calm inflationary pressures. Russian energy supply constraints continued to hit Europe, resulting in higher oil prices and adding to inflation across European countries. China had a difficult quarter, as COVID restrictions, water supply disruptions from a drought, and weakness in the housing market all led to negative performance. Commodity markets also began to show concern about the overall economic malaise, broadly dropping during the quarter, with only a few energy-related assets still up for the year.
The S&P 500 fell 4.9% for the quarter as U.S. equities ended 3Q22 back in bear market territory, reversing a bounce upward that began in the final weeks of 2Q. Equity markets rallied in July amid strong corporate earnings and on rumors that rate hikes would be less aggressive. But stocks retracted during the final two months of the quarter as the central bank responded aggressively to inflation, with a third consecutive 75 basis point rate hike. Within technology, the Nasdaq ended the quarter down 4.0%, as the communication and media sectors fell meaningfully, slightly offset by mega-cap stocks like Apple, Amazon, and Tesla. The semiconductor sector benefited from the CHIPS Act during the quarter; other parts of the space traded lower on fears of a recession and a longer replacement cycle. Credit markets remained choppy, as high yield bond prices whipsawed, and as investors reacted to messaging from global central banks, recession concerns, and negative geopolitical factors around a potential energy crisis in the U.K.
Hedge Fund Performance in 3Q22
Hedge funds again finished the quarter lower but outperformed broader market indices, as equity hedge strategies that focused on growth spaces like tech, media, and telecom continued to be a drag on performance. Some of those declines were offset by managers that focused on the energy sector. Event-driven strategies also ended the quarter in negative territory, as their focus on out-of-favor, deep value equity exposures and speculation on M&A situations was a drag on performance. Relative value strategies ended the quarter flat, with gains in volatility exposures offset by declines in yield alternatives, as the Fed continued to raise rates to slow inflation. Macro strategies continued their strong performance YTD, with managers able to profit off a surging U.S. dollar, interest rates, and commodity trading.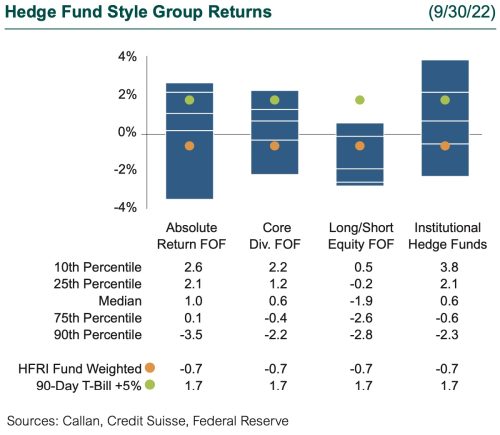 Serving as a proxy for large, broadly diversified hedge funds with low-beta exposure to equity markets, the median member of the Callan Institutional Hedge Fund Peer Group rose 0.6%. Within this style group of 50 peers, the average rates manager gained 1.9%, driven by the continued volatility in interest rates. Meanwhile, hedged credit managers were slightly higher at 0.6%, as managers were actively trading around interest rate volatility. The average equity hedge manager gained 1.9%, as this group of managers tends to run with a low net exposure and lower beta to equity indices and was able to profit off dispersion in those indices.
Within the HFRI indices, the best-performing strategy last quarter continued to be macro (+1.8%), aided by its exposure to commodities, currencies, and rates trading. Relative value managers ended the quarter flat (0.0%), as volatility trading was offset by an aggressive rate environment. Event-driven strategies had another negative quarter (-0.4%), as their value equity exposure sold off with the broad market indices. Equity hedge had its third consecutive quarter of negative performance (-2.3%), as managers with a focus on growth sectors continued to be the main drag on performance.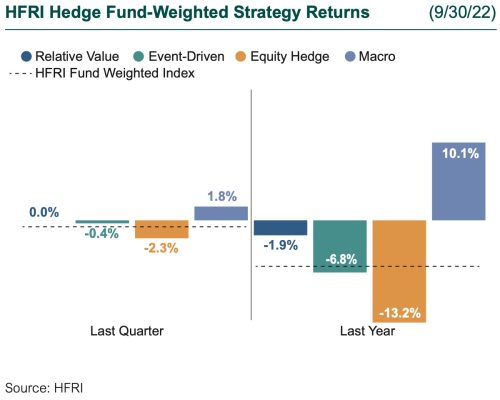 Across the Callan Hedge FOF Database, the median Absolute Return FOF gained 1.0%, as a focus on lower beta strategies held up better during the quarter. Meanwhile, the median Callan Long-Short Equity FOF fell 1.9%, as a growth bias among managers continued to be the biggest drag on performance YTD. The median Callan Core Diversified FOF rose 0.6%, as macro strategies continued to offset some of the performance from equity hedge managers.
Since the Global Financial Crisis, liquid alternatives to hedge funds have become popular among investors for their attractive risk-adjusted returns that are similarly uncorrelated with traditional stock and bond investments but offered at a lower cost. Much of that interest is focused on rules-based, long-short strategies that isolate known risk premia such as value, momentum, and carry found across the various capital markets. These alternative risk premia are often embedded, to varying degrees, in hedge funds as well as other actively managed investment products.
Measuring the quarter's performance of these alternative risk premia, the Bloomberg GSAM Risk Premia Index increased 3.0% based upon a 6% volatility target. Within the underlying styles of the index's derivative-based risk premia, Bond Futures Value (+5.8%), FX Trend (+4.7%), Equity Quality L/S (+2.6%), and FX Carry (+1.2%) profited from the volatility in interest rates, along with commodity and currency exposures. The weakest risk premia strategies were U.S. Equity Value L/S (-1.5%) and FX G10 Value (-1.6%) for the quarter.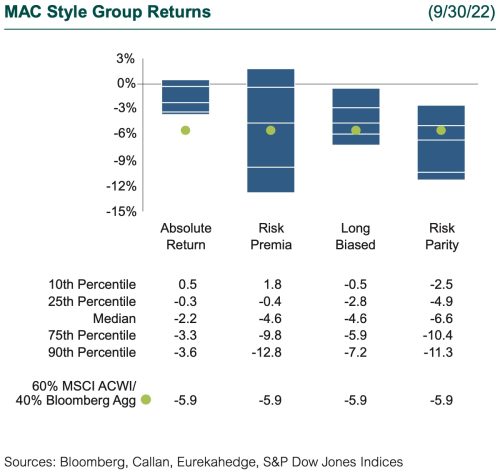 Within Callan's database of liquid alternative solutions, the median of the Callan Multi-Asset Class (MAC) Style Groups generated lower returns for the quarter, gross of fees, consistent with their underlying risk exposures. For example, the median Callan Long Biased MAC manager fell 4.6%, as exposure to equity and fixed income continued to be a drag on performance. The Callan Risk Parity MAC Index, which typically targets an equally risk-weighted allocation to the major asset classes with leverage, was down 6.6%.
Low inflation, quantitative easing, and an era of zero rates have come to an end, as markets are now focused on excessive inflation and policymakers' response to it. The rapid rise of interest rates globally is causing volatility across markets, from equities and bonds to currencies and commodities. This volatility is likely to continue as the Fed and other central banks aggressively raise rates to contain inflationary pressures. As uncertainty remains high and volatility persistent, managers have become more defensive, with many focused on remaining nimble and tactical. When looking at equity exposure, managers have taken down their net and gross exposure throughout the year. Given the market volatility, shorting opportunities have been strong as markets begin to pick winners and losers. This higher rate environment has begun to provide a further tailwind on the increased short rebates. Managers have begun to work around stressed and distressed opportunities and will be looking for attractive entry points should borrowers run into trouble. Callan continues to believe that hedge funds can provide downside protection and be an uncorrelated source of return in a diversified portfolio.
Disclosures
The Callan Institute (the "Institute") is, and will be, the sole owner and copyright holder of all material prepared or developed by the Institute. No party has the right to reproduce, revise, resell, disseminate externally, disseminate to any affiliate firms, or post on internal websites any part of any material prepared or developed by the Institute, without the Institute's permission. Institute clients only have the right to utilize such material internally in their business.