Equity markets retreated during 3Q23, as investors came to terms with the fact that central banks were likely to keep rates higher for longer. The euphoria around just a handful of technology stocks that carried equity markets for the first half of this year subsided. Inflationary pressures persisted and long-term government bonds sold off with the U.S. 10-year Treasury yield reaching a 16-year high, while crude oil prices surged amid Russia and OPEC supply cuts.
The S&P 500 detracted (-3%) with small cap, growth, and technology stocks leading declines, as the realization of a longer period of tighter policy sank in and eroded the case for lofty valuations. European, emerging market, and Asian equity markets posted negative results for the quarter. Chinese markets saw a selloff in August and September due to weak economic data and market negativity due to concerns about China's property market and structural growth. Credit indices generated mixed returns, as U.S. high yield and leveraged loan indices ended the quarter flat to positive, while investment grade credit posted negative returns.
3Q23 hedge fund performance
Hedge funds ended 3Q slightly higher, as equity markets sold off during the quarter when the excitement around the prospects of generative AI subsided and the view of elevated rates trimmed those lofty valuations. Equity hedge strategies ended the quarter in negative territory, as sector-focused managers in health care, technology, and real estate struggled in September. Event-driven strategies ended the quarter on a positive note, as a number of strategic deals either closed or received regulatory approval. Macro managers had a solid quarter, as they profited from rising sovereign bond yields and steeper yield curves.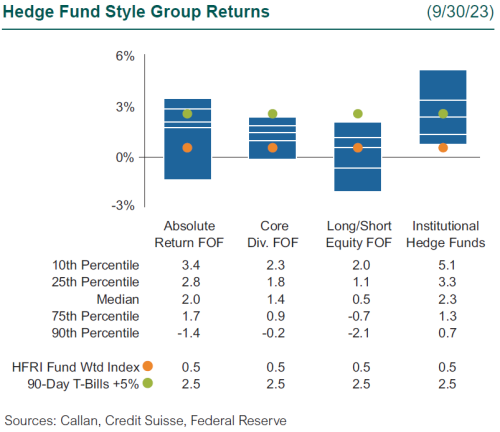 Serving as a proxy for large, broadly diversified hedge funds with low-beta exposure to equity markets, the median return of the Callan Institutional Hedge Fund Peer Group rose 2.3%. Within this style group of 50 peers, the average hedged credit manager gained 4.0%, as lower-rated credits outperformed higher-rated peers later in the quarter. The median Callan institutional hedged rates manager rose 2.4%, largely driven by bond relative value trades in the U.S., given opportunities across the yield curve. Meanwhile, the average hedged equity manager added 1.0%, as managers were able to profit off the dispersion across small cap and growth names.
Within the HFRI indices, the best-performing strategy last quarter was the event-driven index (2.4%), as a number of strategic deals received regulatory approval. Relative value strategies ended up 1.5%, as fixed income trading drove gains. Macro strategies finished up 1.4%, as gains came from short positions in U.S., Japanese, and European rates, and short positions in U.S. equities.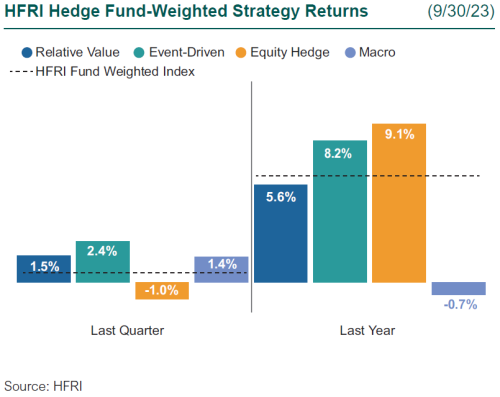 Across the Callan Hedge FOF Database, the median Callan Long-Short Equity FOF ended 0.5% higher, as generalist managers offset specialists during the quarter. Meanwhile, the median Callan Core Diverse FOF ended 1.4% higher, as macro and event-driven managers drove performance. Callan Absolute Return FOF ended 2.0% higher, as macro managers drove performance.
Since the Global Financial Crisis, liquid alternatives to hedge funds have become popular among investors for their attractive risk-adjusted returns that are similarly uncorrelated with traditional stock and bond investments but offered at a lower cost. Much of that interest is focused on rules-based, long-short strategies that isolate known risk premia such as value, momentum, and carry found across the various capital markets. These alternative risk premia are often embedded, to varying degrees, in hedge funds as well as other actively managed investment products.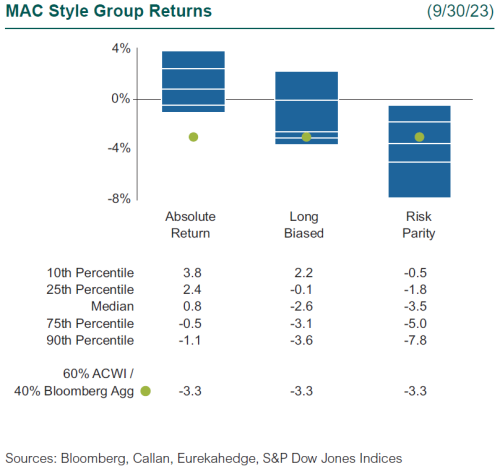 Within Callan's database of liquid alternative solutions, the Callan MAC Absolute Return peer group rose 0.8%, as commodities and currencies drove performance. The Callan MAC Risk Parity peer group fell 3.5%, as equities and fixed income moved lower during the quarter. The Callan MAC Long Biased peer group fell 2.6%, as equity investors dumped stocks after realizing interest rates were likely to be higher for longer.
Challenging geopolitics and an elevated rate environment helped set a backdrop for strong alpha generation during the third quarter for hedge fund strategies. Managers continue to see high dispersion between winners and losers in the stock market, which will favor stock selection strategies and alpha generation over beta returns. Within macro strategies, ongoing geopolitical events and uncertainty on the direction of rates, currencies, and commodities are creating renewed trading opportunities for managers moving forward. Credit strategies are seeing interesting opportunities as rising rates and tightening financial conditions have shifted from a borrower-friendly market to a lender-friendly market. We continue to believe that hedge funds can provide diversification in an institutional portfolio.
Disclosures
The Callan Institute (the "Institute") is, and will be, the sole owner and copyright holder of all material prepared or developed by the Institute. No party has the right to reproduce, revise, resell, disseminate externally, disseminate to any affiliate firms, or post on internal websites any part of any material prepared or developed by the Institute, without the Institute's permission. Institute clients only have the right to utilize such material internally in their business.