After experiencing severe declines in public equity performance, particularly in 2Q22, investors were bracing for 1Q22 private equity returns. While the public markets declined about 5% in 1Q, private equity's fall of 1.5% was relatively muted. Private equity returns often exhibit a smoothing effect, where declines are not as sharp as those experienced in the public markets. Venture capital and growth equity experienced the sharpest drops in 1Q, given their technology focus as well as post-IPO public equity holdings. Buyouts were nearly flat for the quarter, while credit-oriented strategies saw modest gains.
Despite the pandemic, annual fundraising has been consistent from 2019-2021 within a tight range of $900-$939 billion. Fundraising for 2022 so far is behind the pace of 2021 but is expected to end at similar levels. Fundraising timelines are extending due to a large number of funds in the market and the onset of constrained LP commitment budgets due to the public markets-related "denominator effect," which is delaying many final closes.
2Q22 Private Equity Activity in Detail
Fundraising: Based on preliminary data, final closes for private equity partnerships in 2Q22 totaled $233 billion of commitments in 486 partnerships. (Unless otherwise noted, all data in this commentary come from PitchBook.) The dollar volume was up 3% from 1Q22, but the number of funds fell 11%. For the first half, 2022 commitments are running 13% behind those of a year ago, with the number of funds down by 39%. While the figures point to a decline from 2021, the first-half results are in fact tracking to match last year's total because the second half of 2021 weakened as public equity markets grew volatile.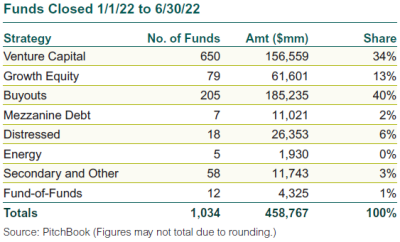 Buyouts: New buyout transactions by count fell 12% from 1Q22 to 2,668, and disclosed deal value dropped 42% to $125 billion. YTD numbers also saw declines of 16% in number of investments and 7% in disclosed value. Average buyout prices remained comparable to 2021, with a similar pattern in average leverage multiples.
VC Investments: New rounds of financing in venture capital companies totaled 10,244, with $125 billion of announced value. The number of investments preliminarily fell 24% from 1Q22, and announced value fell 25%. YTD numbers held up stronger, down only 15% for rounds and 13% for disclosed value.
Exits: There were 522 private M&A exits of private equity-backed companies, with disclosed values totaling $122 billion. The preliminary private sale count fell 18% and the announced dollar volume dropped 26%. There were 42 private equity-backed IPOs in 2Q22 raising an aggregate $7 billion, down 7% by count, with issuance being unchanged from 1Q22.
Venture-backed M&A exits totaled 680 transactions with disclosed value of $23 billion. The number of sales declined 12% from 1Q22, and announced value plunged 56%. There were 67 VC-backed IPOs in 2Q22 with a combined float of $10 billion; the count was down 9% and the issuance grew 25%.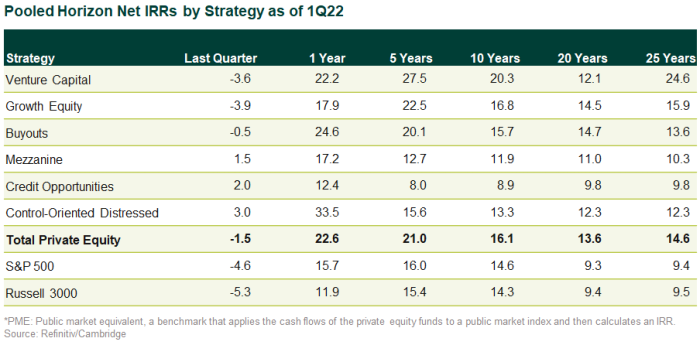 Returns: With the strong downturn in public equity markets, private equity outperformance has widened given private equity's more gradual quarterly mark-to-market valuation methodology.