Fortified by continued fiscal and monetary stimulus, the robust U.S.-led recovery lifted market hopes even more in 2Q21. It also raised concerns that rising inflation, however "transitory," may force the Federal Reserve's hand on raising rates sooner than expected. Meanwhile, corporate earnings growth beat expectations, as it gorged upon strong consumer demand amid extraordinarily loose credit conditions. Corporate activity in the capital markets, like M&A and IPOs, also continued to flourish in this setting. Behind this backdrop of positive economic news, fears of the more menacing Delta variant of COVID-19 emerged. Also undermining investor confidence, regulators in China sought to control the unbridled growth of the country's tech sector and its perceived monopoly on consumer data.
Led by the S&P 500 (+8.5%), U.S. equities enjoyed solid gains supported by the reopening economy. Credit spreads tightened further to cyclical lows, while long-term Treasury yields notably fell back as the Fed's latest "dot plot" unexpectedly indicated higher short-term rates possibly ahead. Reflecting the optimism of "money good" on lousy credit, the Bloomberg High Yield Index gained 2.7%, leaving its investors with an effective yield of only 3.7%. Lower long-term rates with a strengthening economy also resurrected the meme of growth stocks over value in 2Q21, partially reversing the fortunes of value in 1Q. The MSCI Emerging Markets Index managed a 5.0% gain aided by a tailwind of swelling commodity prices, despite developing countries struggling with lagging vaccination rates.
Amid this strengthening economic setting, most hedge funds benefited from healthy capital markets enabled by massive central bank liquidity. Representing a raw collection of hedge funds reporting performance without implementation costs, the Credit Suisse Hedge Fund Index (CS HFI) gained 3.0% in 2Q. As an actual hedge fund portfolio net of all fees, the median manager in the Callan Hedge Fund-of-Funds (FOF) Database Group advanced 2.7%.
Serving as a proxy for large, broadly diversified hedge funds with low-beta exposure to equity markets, the median Callan Institutional Hedge Fund Peer Group member added 2.1%. Within this style group of 50 managers, the average Hedged Credit fund gained the most (+4.3%), benefiting from the quarter's risk-on environment. As the weakest substyle performer, the average Hedged Rates fund edged ahead only 0.1% as it navigated twisting yield curves for sovereigns. The average Hedged Equity fund (+1.5%) also underperformed the broader peer group, reflecting another challenging quarter of factor rotations between growth and value.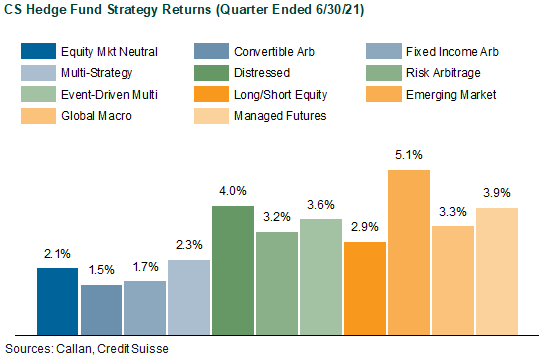 Within CS HFI, the best-performing strategy last quarter was Emerging Markets (+5.1%), aided by its long-biased exposures to credit and equity. Ripe credit conditions, despite declining bankruptcy events, helped Distressed to advance 4.0%. Favorable trends in equities and commodities underpinned Managed Futures (+3.9%), however offset by market reversals in rates and currencies. Both Event-Driven Multi-Strategy (+3.6%) and Risk Arb (+3.2%) profited from the quarter's particularly strong corporate activity. The laggards within the CS HFI were relative value strategies of Convertible Arb (+1.5%), Fixed Income Arb (+1.7%), and Equity Market Neutral (+2.1%).
Across the Callan Hedge FOF Database, market exposures notably affected performance in 2Q. Supported by strong equity tailwinds, the median Callan Long/Short Equity FOF (+4.3%) handily beat the Callan Absolute Return FOF (+2.1%). With diversifying exposures to both non-directional and directional styles, the Core Diversified FOF gained 2.6%.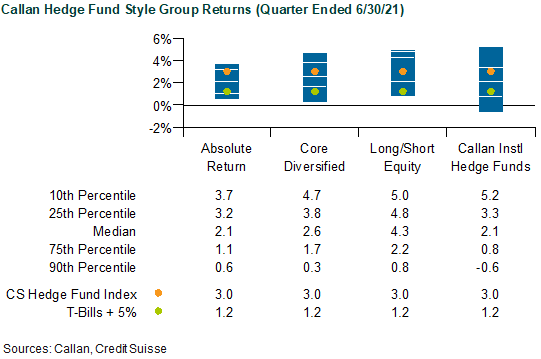 Since the Global Financial Crisis, liquid alternatives to hedge funds have become popular among investors for their attractive risk-adjusted returns that are similarly uncorrelated with traditional stock and bond investments but offered at a lower cost. Much of that interest is focused on rules-based, long-short strategies that isolate known risk premia such as value, momentum, and carry found across the various capital markets. These alternative risk premia are often embedded, to varying degrees, in hedge funds as well as other actively managed investment products.
Measuring the quarter's performance of these alternative risk premia, the Bloomberg GSAM Risk Premia Index increased 1.0% based upon a 6% volatility target. Within the underlying styles of the Index's derivative-based risk premia, Equity Trend (+2.7%) and Commodity Trend (+1.9%) continued to profit from sustained market moves. Bond Futures Carry (+2.6%) and Commodity Carry (+1.8%) also performed well in the quarter's risk-on setting. The weakest risk premia were U.S. Equity Momentum Long/Short (-5.0%) and U.S. Equity Value Long/Short (-3.1%), reflecting the unusually challenging factor rotations within U.S. equity markets.
Within Callan's database of liquid alternative solutions, the median managers of the Callan Multi-Asset Class (MAC) Style Groups generated positive returns, gross of fees, consistent with their underlying risk exposures. For example, the Callan Risk Parity MAC, which typically targets an equal risk-weighted allocation to the major asset classes with leverage, jumped 7.1%. Supported by the quarter's tailwinds of positive equity, rates, and commodity markets, this MAC strategy handily beat its traditional unlevered, but equity-centric, benchmark of 60% MSCI ACWI and 40% Bloomberg Barclays US Aggregate Bond Index (+5.2%). The median Callan Risk Premia MAC rose 1.6% based on its exposures to uncorrelated style premia (such as those in the Bloomberg GSAM Index) targeting 5% to 15% portfolio volatility. As the most conservative MAC style focused on non-directional strategies of long and short asset class exposures, the Callan Absolute Return MAC gained 1.8%.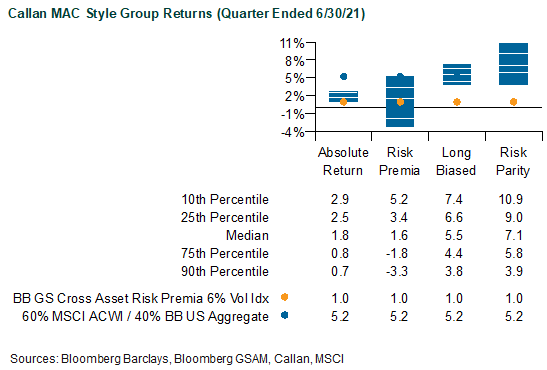 Confronted by the quarter's apparent risks of rising inflation and overheating economies, traditional betas face limited upside and low single-digit yields. However, the outlook for hedge funds and alternative betas is still ripe with dynamic trading and diverging secular forces creating profitable opportunities not dependent on beta. As economies follow different paths of recovery, greater expected volatility across and within capital markets may also create more profitable opportunities for risk allocators embodied in hedge funds and other liquid alternatives. In such a market setting, strategies of macro, relative value, and event-driven trades are well positioned to play a diversifying role for the traditional long-only institutional investor facing challenging scenarios for both stocks and bonds.