Private equity continued the trend of slower activity in 1Q23, after the frothy 2021 peak period. The Silicon Valley Bank and Signature Bank seizures and the Fed's continued increase in interest rate targets, on top of mounting recent geopolitical and economic worries, exacerbated the already unsettled and directionless capital markets. Private equity continues to transact at levels seen in the 2018 to 2020 period, which was then considered strong. Fundraising dollar volume ticked up slightly, but overall combined company-level entry and exit volumes averaged drops of about 34% by count and 54% by dollar volume from 4Q22. Exits continue to suffer more than fund commitments and new investments.
Fundraising | Based on preliminary data, 1Q23 private equity partnerships holding final closes totaled $188.7 billion, up 20% from 4Q22. New partnerships formed dropped 47% to 339, with the trend continuing of larger funds consolidating most commitments. Secondary funds surged to 17% of commitments, which is an anomaly for the strategy that normally has a low single-digit market share. The large increase is solely due to Blackstone Strategic Partners' final close of two funds totaling $25 billion. New buyout funds with 44% of commitments remains low. Venture capital has declined from recent 30%-plus levels but remains significant. (Unless otherwise noted, all data comes from PitchBook.)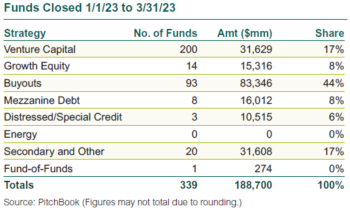 Buyouts | Funds closed 2,429 investments with $123 billion in disclosed deal value, a 21% decline in count and a 53% drop in dollar value from 4Q. The largest investment was the $17.4 billion sale of a minority interest in Vantage Tower by Vodafone to KKR and Global Infrastructure Partners.
VC Investments | New investments in venture capital companies totaled 10,271 rounds of financing, down 10%, with $78 bil­lion of announced value, down 11%. The largest investment was the $6.5 billion 15th round in payments software firm Stripe.
Exits | There were 462 private M&A exits of private equity-backed companies, a 3% increase. Disclosed values declined 36% to $89 billion. There were 47 private equity-backed IPOs, down 20%, which raised an aggregate $5 billion, down 44%.
Venture-backed M&A exits totaled 527 with disclosed value of $22 billion. The number of sales rose only 1% from 4Q, but announced value jumped 175% with three company exits representing half the quarter's proceeds. There were 58 VC-backed IPOs, down 51%, and the combined float totaled $6 billion, a 33% decrease.

Returns | Preliminary numbers (finals will be published in mid-May) for 4Q22 indicate a modestly up quarter for All Private Equity, with Buyout and Credit-related strategies offsetting continued declines in Venture Capital and Growth Equity. The reversal comes after three quarters of moderate declines for All Private Equity.
Disclosures
The Callan Institute (the "Institute") is, and will be, the sole owner and copyright holder of all material prepared or developed by the Institute. No party has the right to reproduce, revise, resell, disseminate externally, disseminate to any affiliate firms, or post on internal websites any part of any material prepared or developed by the Institute, without the Institute's permission. Institute clients only have the right to utilize such material internally in their business.