Equity and credit markets saw volatility spike during 1Q23, as sentiment on inflation and Federal Reserve policy whipsawed in response to signs of persistently rising prices following strong economic data on the labor market. The impacts of tightening monetary policy by the Fed were felt in the banking sector, increasing the odds of an economic recession and uncertainty around future rate hikes. Markets began to calm in March, following government intervention, and posted strong returns, despite two additional rate hikes during the quarter.
The S&P 500 gained 7.5%, fueled by large U.S. technology-focused stocks, which made a recovery in 1Q. The S&P 500 Information Technology and Communication Services sectors posted double-digit gains. European and Asian equity markets also posted positive results for the quarter. Chinese equities underperformed global markets, as the optimism surrounding the re-opening and recovery of China's economy was overshadowed by lower-than-expected economic growth and U.S.-China geopolitical tensions. Credit indices generated positive returns across the board; investment grade credit slightly underperformed high yield, with both indices ending the quarter positive.
1Q23 Hedge Fund Performance
Hedge funds rose during the quarter but underperformed broader equity indices, as the group provided steady performance through a volatile market environment. Equity hedge strategies had a strong start to the year, as tech-focused managers saw performance soar, along with emerging market-focused strategies. Relative value managers also had a nice quarter; fixed income relative value strategies were able to profit off the move in short-term rates in March. Event-driven strategies posted gains, as some managers profited from merger arbitrage exposures when spreads tightened with the completion of several large strategic deals. Macro strategies generated negative performance on the quarter; losses came from short positions in U.S. rates, and short positions in U.S. equity indices detracted from performance.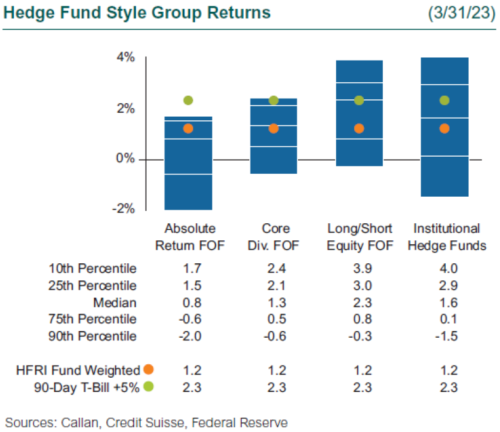 Serving as a proxy for large, broadly diversified hedge funds with low-beta exposure to equity markets, the median manager in the Callan Institutional Hedge Fund Peer Group rose 1.6%. Within this style group of 50 peers, the average hedged credit manager gained 2.1%, as high yield markets had a strong start to the year when near-term recession risks receded and capital markets access improved. Meanwhile, hedged rates managers rose 1.5%, as those strategies were able to profit off short-term rates falling in March when the banking crisis flared up. The average hedged equity manager fell 0.3%, as managers with a focus on TMT and consumer stocks led the rally after lagging for all of 2022.
Within the HFRI Indices, the best-performing strategy in 1Q was the equity hedge index (2.5%), as managers that were focused on growth stocks saw a strong bounce in performance compared to last year. Event-driven strategies finished up 1.4%, as hard catalyst situations contributed to performance along with select merger arbitrage exposures when spreads tightened. Macro strategies ended the quarter 2.4% lower, primarily due to losses in short fixed-income exposures, as banking turmoil abruptly shifted rate expectations.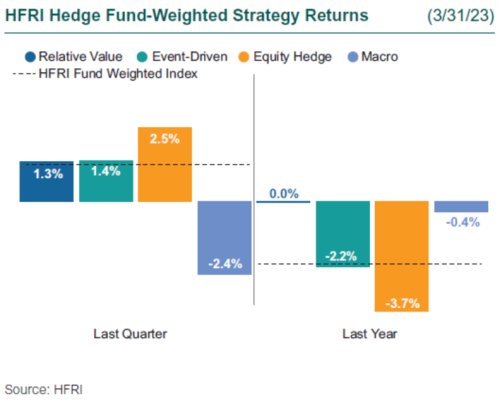 Across the Callan Hedge FOF Database, the median Callan Long-Short Equity FOF gained 2.3%, as managers benefited from a strong S&P 500 during 1Q. Meanwhile, the median Callan Core Diversified FOF rose 1.3%, as equity hedge exposure offset negative performance from macro managers during the quarter. The median Callan Absolute Return FOF manager gained 0.8%, as multi-strategy and equity hedge exposure was able to offset the underperformance from macro managers in the quarter.
Since the Global Financial Crisis, liquid alternatives to hedge funds have become popular among investors for their attractive risk-adjusted returns that are similarly uncorrelated with traditional stock and bond investments but offered at a lower cost. Much of that interest is focused on rules-based, long-short strategies that isolate known risk premia such as value, momentum, and carry found across the capital markets. These alternative risk premia are often embedded, to varying degrees, in hedge funds as well as other actively managed investment products.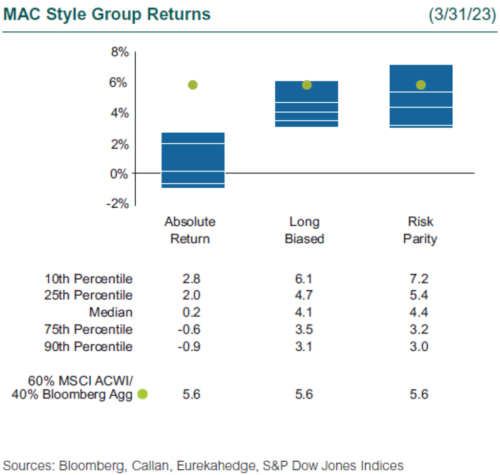 Within Callan's database of liquid alternative solutions, the median Callan Risk Parity MAC manager gained 4.4%, as equities and fixed income drove performance during the quarter. The Callan Long Biased MAC peer group rose 4.1%, as strong equity performance led the group higher. The Callan Absolute Return MAC manager finished up 0.2%, as a bias toward value equities caused underperformance relative to the other peer groups, as growth equities had a strong start to the year.
The current market backdrop is causing headwinds for long-only investors, but this opportunity sets up well for hedge funds that have the ability to short and hedge in this type of environment. As the banking crisis continues to simmer, it will likely become more difficult for weak companies to access credit markets to kick the can down the road. Skilled investors that can discern between the winners and the losers in this volatile market environment will be rewarded through fundamental security selection. Diversifying, multi-strategy managers will continue to be a core position in portfolio construction and are well-positioned to profit off this tumultuous market environment.
Disclosures
The Callan Institute (the "Institute") is, and will be, the sole owner and copyright holder of all material prepared or developed by the Institute. No party has the right to reproduce, revise, resell, disseminate externally, disseminate to any affiliate firms, or post on internal websites any part of any material prepared or developed by the Institute, without the Institute's permission. Institute clients only have the right to utilize such material internally in their business.