Private Real Estate
The NCREIF Property Index, a measure of U.S. institutional real estate assets, rose 5.3% during 1Q22. The income return was 1.0% and the appreciation return was 4.3%.
Industrial led property sector performance with a gain of 11.0%. Office finished last with an increase of 1.6%.
Regionally, the West led with a 6.5% increase, while the Midwest was the worst performer but still gained 3.5%.
The NCREIF Open-End Diversified Core Equity (ODCE) Index, representing equity ownership positions in U.S. core real estate, rose 7.1% during the quarter.
Valuations are reflective of strong fundamentals in Industrial and Apartment and continued uncertainty despite a modest recovery in Office and Retail.
Office and Retail vacancy rates increased slightly during the quarter.
Net operating income growth turned negative for Office as the Omicron variant delayed many return-to-office plans.
Net operating income growth continued its gradual increase in Industrial while decreasing slightly in Apartment and Retail.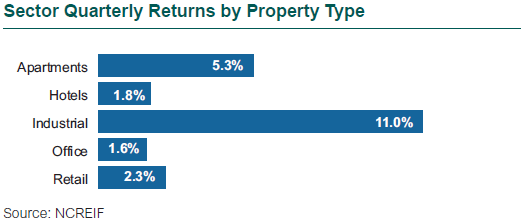 Public Real Estate
The FTSE EPRA Nareit Developed REIT Index, a measure of global real estate securities, fell 4.0% during 1Q22.
U.S. REITs, as measured by the FTSE EPRA Nareit Equity REITs Index, dropped 3.9%.
The FTSE EPRA Nareit Asia Index (USD), representing the Asia/Pacific region, fell 1.0%.
European REITs, as measured by the FTSE EPRA Nareit Europe Index (USD), fell 7.2%.
Real Assets
Commodities were a rare bright spot given their inflation-protection properties as well as war-induced supply concerns. The Bloomberg Commodity TR Index soared 25.5% and the energy-heavy S&P GSCI climbed 33.1%.
Gold (S&P Gold Spot Price Index: +6.9%) and listed infrastructure (DJB Global Infrastructure: +3.2%) outperformed global stocks and bonds.
TIPS (Bloomberg TIPS: -3.0%) fell but outpaced nominal U.S. Treasuries.