Private equity had a slower but still active 1Q22. The unsettling shift in the geopolitical and economic environment is creating murkiness regarding the future direction of private equity activity volumes. Fundraising remained strong, with venture capital dominating new commitments and buyouts paling by comparison. This an unusual shift not seen since the late 1990s, which was the last time that venture capital and technology-related investments gained outsized popularity after producing several years of outsized relative returns—particularly bolstered by an exuberant IPO market. Company-level private transactions fell on average about 23% by dollar volume and 24% by new deal count. Exits declined more than new investments. IPOs faced continuing challenges.
1Q22 Private Equity Activity in Detail
Fundraising: Based on preliminary data, 1Q22 private equity partnerships holding final closes totaled $216 billion, up 16% from 4Q21. New partnerships formed dropped 34% to 497, with larger funds remaining dominant. European commitments fell to a markedly low 16% of the total in 1Q. New buyout fund commitments were surprisingly low given its 44% share of commitments for the full year 2021. (Unless otherwise noted, all data come from PitchBook.)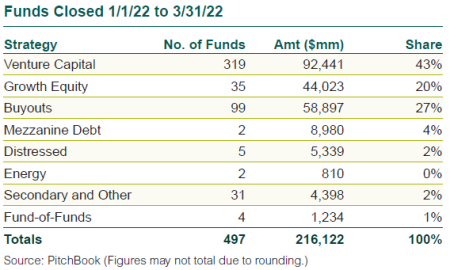 Buyouts: Funds closed 2,667 investments with $200 billion in disclosed deal value, a 31% decline in count and a 16% drop in dollar value from 4Q. The largest investment was the $17.0 billion sponsor-to-sponsor sale of electronic medical records company Athenahealth by Veritas and Elliott to Bain and Hellman & Friedman.
VC Investments: New investments in venture capital companies totaled 11,495 rounds of financing, down 6%, with $154 billion of announced value, down 20%. The largest investment was the $3.0 billion mega 2nd round in Altos Labs, which focuses on cellular rejuvenation, by Foresite.
Exits: There were 540 private M&A exits of private equity-backed companies, a drop of 41%. Disclosed values declined 33% to $140 billion. There were 41 private equity-backed IPOs, down 66%, which raised an aggregate $7 billion, down 76%.
Venture-backed M&A exits totaled 693 with disclosed value of $46 billion. The number of sales fell 18% from 4Q, and announced value fell 22%. There were 69 VC-backed IPOs, down 60%, and the combined float totaled $7 billion, an 83% decrease.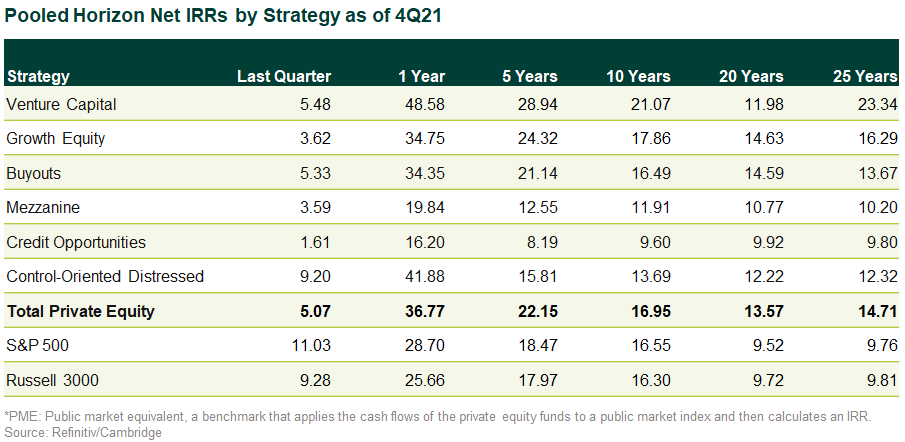 Private Equity Returns: Tremendous 2021
The year 2021 produced a 37% increase in private equity returns, about 10 percentage points higher than the publicly traded equity indices. While distributions remained strong, most of the gains constituted unrealized mark-ups.
The strong 4Q21 public market rally bested private equity, which rose by only about half as much.
The Refinitiv/Cambridge private equity database shows strong outperformance over broad public equity indices over all other horizons. If the increased downside volatility that started to appear in 3Q21 persists, private equity is expected to widen its current robust margin of long-term outperformance.