Income positive, except for Hotels
Hotel and Retail are the most challenged sectors of private real estate, while Office faces uncertainty; Industrial remains the best performer.
Income remains positive except for the Hotel sector.
NOI declines as Retail suffers
Net operating income (NOI) declined as Retail continues to suffer.
1Q21 rent collections showed relatively stable income throughout the quarter in the Industrial, Apartment, and Office sectors. But the pandemic's impact on regional malls has hindered Retail.
Class A/B urban apartments were relatively strong, followed by Industrial and Office.
Transaction volume has dropped off during the quarter with the exception of multifamily and industrial assets with strong-credit tenants, which are trading at pre-COVID-19 levels.
Cap rates remained steady during the quarter. The spread between cap rates and 10-year Treasuries is relatively high, leading some market participants to speculate that cap rates will not adjust much.
Price discovery is happening and there are limited transactions.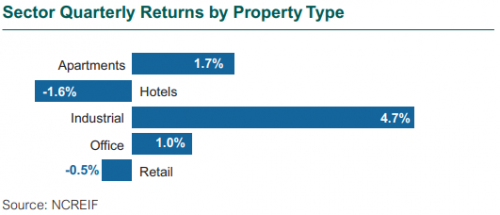 Global REITs outpace equities
Global REITs outperformed in 1Q21, gaining 5.8% compared to 4.9% for global equities (MSCI World).
U.S. REITs rose 8.9% in 1Q21, beating the S&P 500 Index, which gained 6.2%.
Globally, REITs are trading above NAV with the exception of those in Hong Kong, the United Kingdom, and continental Europe.
Property sectors are mixed, between trading at a discount or premium.
Ongoing volatility in REIT share prices offers opportunities to purchase mispriced securities, individual assets from REIT owners, and discounted debt, as well as to lend to companies and/or execute take-privates of public companies.