Five years ago, Callan published "Risky Business," a paper that focused on the challenges faced by institutional investors in the low return environment they found themselves in. The paper received a lot of attention, including from The Wall Street Journal, largely due to the graphic illustrating what was required in terms of asset allocation to earn a 7.5% expected return over various time periods. Our analysis found that investors in 2015 needed to take on three times as much risk as they did 20 years before to earn the same return.
Given that attention and the interest in our work from the institutional investing community, we wanted to once again update our analysis to reflect current conditions and to extend the comparison over a longer time period.
It is no exaggeration to say that 2020 turned out to be a truly historic year due to the rapid spread of COVID-19, which affected individuals and economies across the globe. Central banks around the world moved to zero interest rate policies and implemented massive monetary accommodation, while governments stepped in with unprecedented fiscal stimulus and support for businesses and workers.
In light of historically low interest rates, Callan made nearly revolutionary adjustments to our 2021 Capital Markets Assumptions. We lowered our fixed income return projection, and we also reduced our equity return assumptions to reflect concerns about valuations. Coupled with uncertainty around the strength and timing of a post-pandemic recovery, institutional investors face one of the most difficult investing environments in decades.
To find out how difficult, our experts examined what would it take for an investor to achieve a nominal 7% expected return over the next 10 years. Using our proprietary Capital Markets Assumptions, we found that investors in 2021 needed to take on almost 16 times as much risk as they did 30 years ago.
Return-seeking portfolios are now more complex and expensive than ever. Whereas in 1991 a portfolio made up of 98% cash (cash!) and 2% bonds was projected to return 7%, by 2021 an investor would need to include 97% in return-seeking assets (stocks and private markets) to achieve comparable return expectations.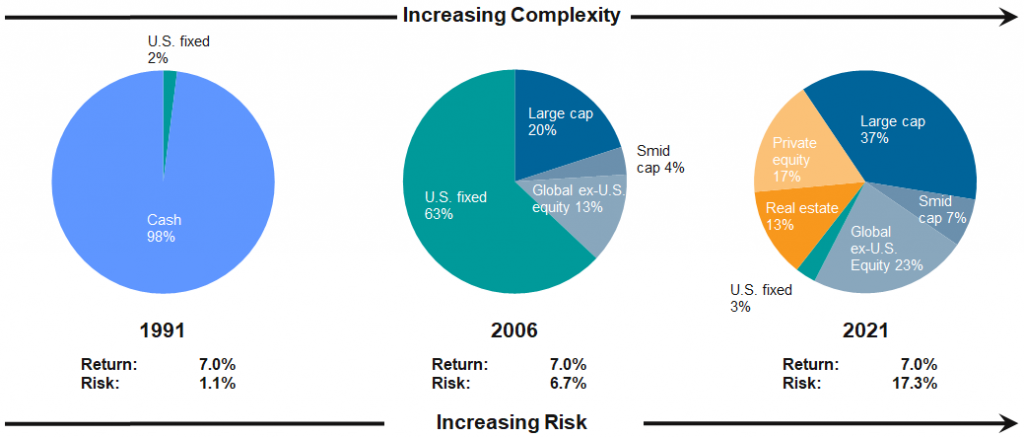 To be sure, the early '90s were a different time, with not only higher fixed income yields but also higher inflation. Therefore, we examined what it would take to earn a 5% real return given our prevailing inflation expectations at the time. The graphic below shows that the pattern of increasing complexity over time remains similar over the 30-year period, although the level of additional risk is lower. Today investors need to take on roughly 2½ times the volatility as they did 30 years ago to earn a 5% real expected return, versus almost 16 times the risk when matching nominal return expectations.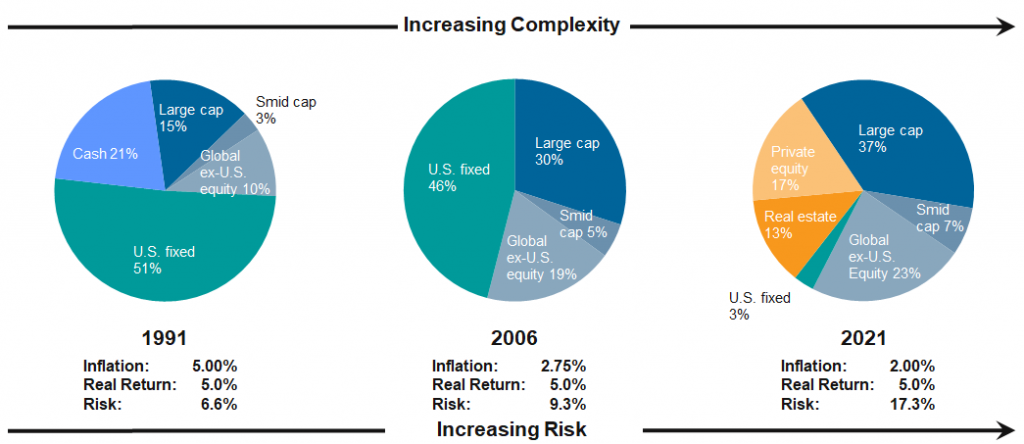 While investors are cautiously optimistic that we've weathered the worst of the pandemic's impact on the markets as vaccine rollouts begin, uncertainty surrounding what lies ahead and the impact on portfolios is on the minds of many. Whether assessed in a nominal or real framework, our conclusions from our 2016 study remain unchanged: Investors require far more complex and risky portfolios to meet their return targets. Clients must assess based on their specific circumstances whether such "risking up" and increased complexity is appropriate.